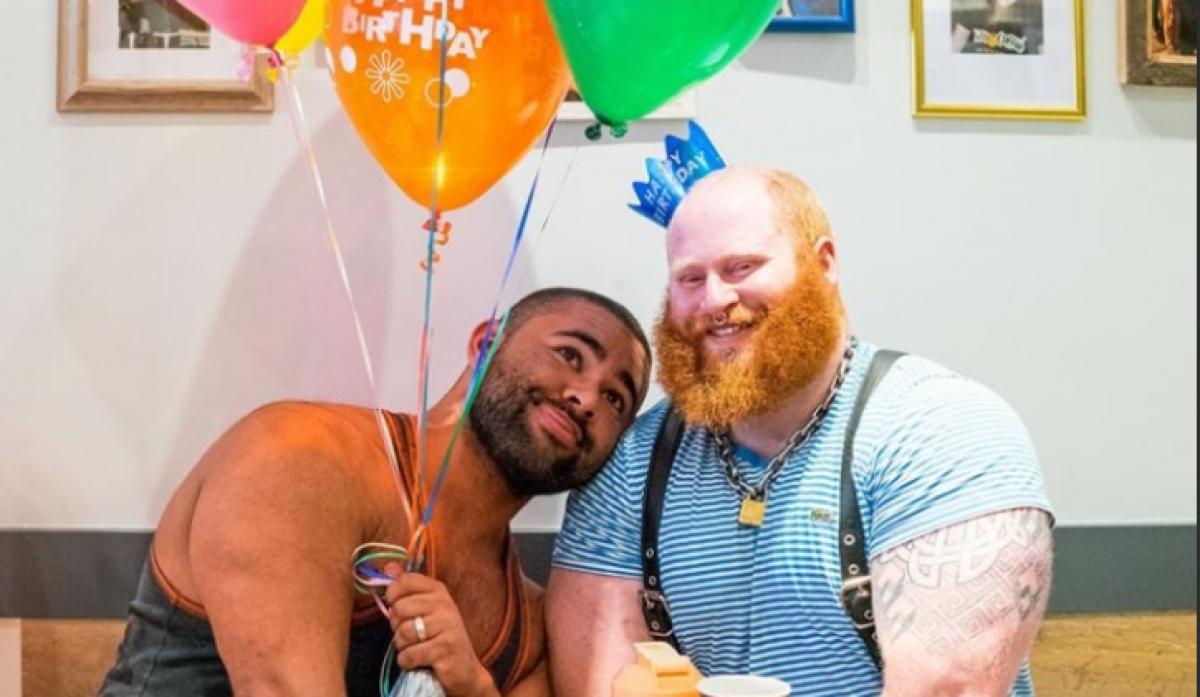 28-year-old Jack Chapman (pictured, right) was ordered by his 'master' to have silicone injected into his scrotum.
In 2010, Linda Chapman's 20-year-old son Jack fell in love with an American Bear Blogger Dylan Ray Hafertepen (pictured, left) , who would introduce Jack to the dangerous world of body modifying.
Eight years on and that introduction to the world of body modifying would result in deadly consequences for Jack.
Just three weeks ago, Jack died in a US hospital without his mother or any of his family knowing. Linda learnt of her son's death a day after the fact.
Linda Chapman says she holds Dylan responsible for Jack's death.
Speaking to Australia's Ten network, Chapman says her world fell apart when she discovered her son was in what she saw as a toxic and abusive relationship.
"I know my son had free will, but he was not in his right frame of mind, he was not the Jack that I sent over there. He had no self-esteem, he'd lost himself in this cult. This was a disturbed boy," Linda told Ten's The Project.
Hafertepen is a well-known member of the Dom/sub pup play communities in San Francisco and, later, Seattle. To his pups, he's called Master Dylan, but on Instagram and Tumblr, he's widely known as Noodles and Beef.
Online, Master Dylan shared pictures and details of his polyamorous, self-made family, which also included Hafertepen's husband (Big Pup), and other partners including Chuck 'Alpha Pup' Osbourn and Matthew 'Angus Pup' Scott. Judging from the pictures, these men are"muscle bears" in gay parlance—and physically resemble Hafertepen.
According to thestranger.com, the subs wear padlocked chains around their necks, a symbol of Hafertepen's ownership over them, and some of them have matching tattoos of Hafertepen's astrological sign, the Taurus zodiac symbol (a circle with horns). In photos, Alpha and Angus, appear to have additional tattoos on their backs that read, "Property of Master Dylan."
Dylan introduced Jack to body manipulation and his love of master/servant role play; and Jack's mother also discovered an extraordinary contract that set out the full terms of Jack's relationship with Dylan, where Dylan was 'the master' and Jack one of a number of 'pups' who were agreed to obey him.
The contract also said the pup's body and mind were the exclusive property of the master and that the pup had no identity outside that given to him by the master.
"It was devotion, it was like some sort of clan, family, like a cult. And to prove their devotion to him they had to change their bodies," Linda told The Project
Jack obeyed the orders of his 'master' and altered his body by getting silicone injections to enlarge his scrotum.
This resulted in Jack being taken to a hospital and ultimately dying one week after being admitted.
Dylan denies ordering Jack to do so, however, Jack's mother is not convinced.
She says she plans on getting answers and closure with the help of police, but at this time no charges are pending.
The Project's depiction of the story has been widely criticised on social media for demonising BDSM relationships.