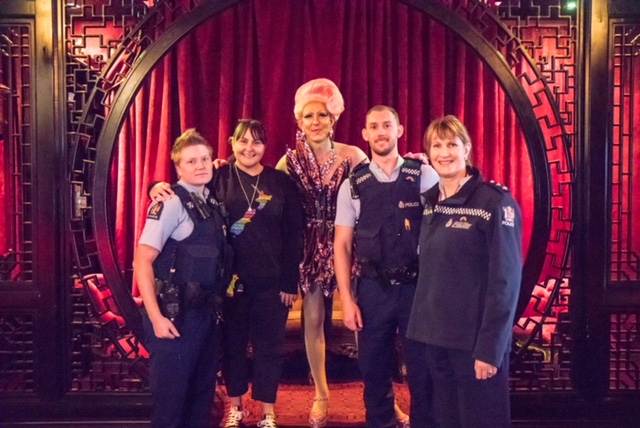 "All I can say at the moment is we are talking with Police to find a way forward for all," says Pride Board Chair Cissy Rock, while NZ Police Diversity Liaison Officer, Inspector Tracy Phillips asks community members not to boycott the festival.
NZ Police and the Auckland Pride Board are working to find a solution, both camps have told express.
While Pride replied with a single sentence email to express' questions on the issue; Phillips conducted a 15-minute phone interview in which she admitted to the Police had not anticipated the level of support they have received from the Rainbow Community. "We are overwhelmed and humbled," she tells us.
Phillips says she was surprised and disappointed when she found out that the Police's application to march in uniform at the 2019 Auckland Pride Parade had been rejected, with an offer allowing NZ Police to march in t-shirts or 'fancy dress' instead.
Phillips tells us NZ Police never viewed this offer as a fair compromise. "As police, we are intrinsically linked to that uniform. We are proud of what we do, who we are and what we stand for… we are actively trying to recruit LGBT people into the police. If you go to the Police College you will find a rainbow friendly place."
Phillips was informed of Pride's decision while in attendance of the joint-agency Rainbow Diversity Conference. An event that brought government agencies together with groups such as: Rainbow Youth, Outline, the NZ Aids Foundation, Prostitutes Collective, Body Positive and Positive Women; to discuss better ways of serving the Rainbow community.
Moving forward, Phillips is glad negotiations are back on the table and is eager to find, "a joint solution."
"Without protest, we never have change," she says. "There is nothing wrong with a healthy discussion which is solution-based and looking to move forward."
While some community members have called for boycotts of the Auckland Pride Festival if the uniform ban is upheld, Phillips is adamant that the NZ Police do not want to see this happen. "NZ Police think the Auckland Pride Parade and Festival is a fantastic event and celebration. We want that to continue. We are not calling for any boycott. We don't want to spoil the Pride Parade for anybody."
"If worse comes to worst, and I sincerely hope it doesn't, we will certainly be at the sidelines… I'm looking forward to a really awesome 2019 Auckland Pride Parade, whatever that looks like."