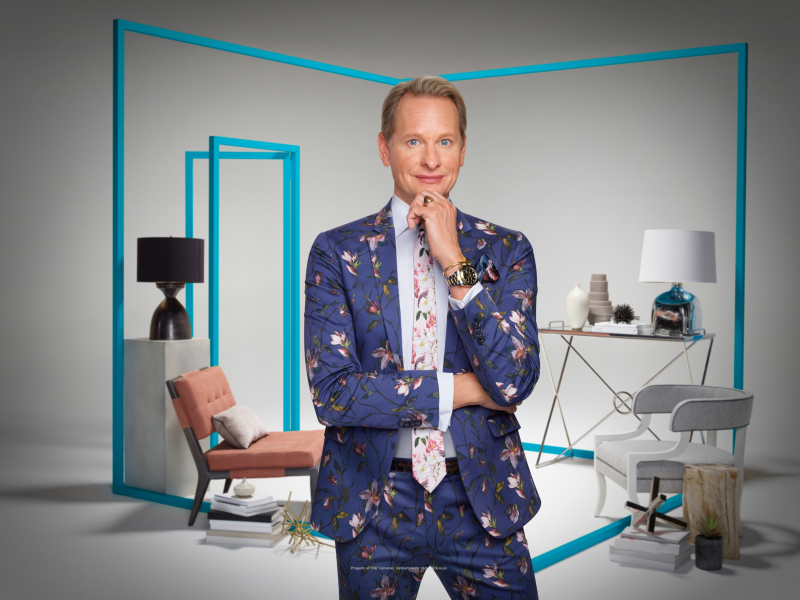 Carson Kressley first captured viewers hearts on the original series of Queer Eye for the Straight Guy in 2003. He was chosen as the show's 'fashion savant', having spent the previous eight years working as a stylist for Ralph Lauren. The most prominent member of Queer Eye's fab five following number appearances as a guest and style correspondent on her show, Oprah offered Kressley his own show on her OWN channel. Debuting in 2011, Carson Nation, saw Kressley travelling around America giving makeovers and teaching people how to make over their friends.
"Give a man a blow dry, he looks good for one day; but teach a man to blow dry and he looks good for the rest of his life," he muses.
Dancing with the Stars, The Apprentice and RuPaul's Drag Race followed and in his three most famous boss' (Oprah, Ralph and Ru), Kressley notes a number of similarities. "They are all very similar in that they are just magical people in that they are very charismatic, driven and successful but also very kind and fair. So when I worked with them, of course, I admired them, but you become friends and all of their success just evaporates and it just becomes about that connection between two people; and I think that's the key to their success because they have remained very real and authentic people."
Unhappy with America's current political climate; Kressley is enthusiastic when express suggests Oprah's next role could be as president. "That would be amazing. Please, can we?" He asks.
His new show 'Get a Room' is a full-circle moment for Kressley. He reunites with fellow Queer Eye alum Thom Filicia and returns to the channel that began his TV career, Bravo. A channel that might not exist today if it had not been for Queer Eye's success. Kressley remembers the time fondly and says he and his former co-stars are frequently reminded of it.
"Any of us can be at an airport or in a public space and inevitably a younger gay person will come up to us and say 'hey I watched your show with my family. I was too young and afraid to have that conversation with them, but when I saw my family laughing with you and liking you, that gave me the confidence to come out to them." He tells us, admitting, even after fifteen years of hearing these stories, they still give him 'goose bumps'.
Last year, Netflix rebooted Queer Eye with an entirely new cast but a similar format, and as with the original, the show has achieved Emmy-winning success. Kressley's advice for the new cast, "Enjoy the process! I wish I had taken photos every day or a kept a diary, they really need to take note of all the amazing things they are doing so you can look back and remember it when they're old like me!"
'Get a Room' sees Carlson turn his eye away from fashion and on to interior design. Following the Queer Eye format but making over rooms rather than people. He has plenty of suggestions when asked why we should be tuning in.
"Tom and I take design very seriously, but we don't take ourselves very seriously. We have a lot of laughs at each other's expense, and we might have a bottle or two of wine as we're working!" He divulges.
"Although we're doing some high end projects – which I like to call design porn, which will give you an eyegasm and something to dream about; each episode we also do a client that has a more approachable budget, which will give you really great design takeaway to make small changes in your own home and live life more fabulously!"
Kressley admits his own home is quite fabulous but looks like 'a high-end gift emporium'. "They're very nice items, but I am a hoarder," he confesses.
This November Kressley will turn 50. "I'm just happy to be alive," he tells us, "when I was coming of age, it was the age of HIV and people were still dying. So I just feel very lucky."
Though he believes age is just a number, Kressley believes a key to maturing gracefully comes with giving back to others particularly those in our own rainbow community. "We have a wonderful community and it's wonderful to be a part of it, so stay involved," he advises.
Get a Room screens Sundays, Mondays and Wednesdays on Bravo and can be watched anytime on ThreeNow.