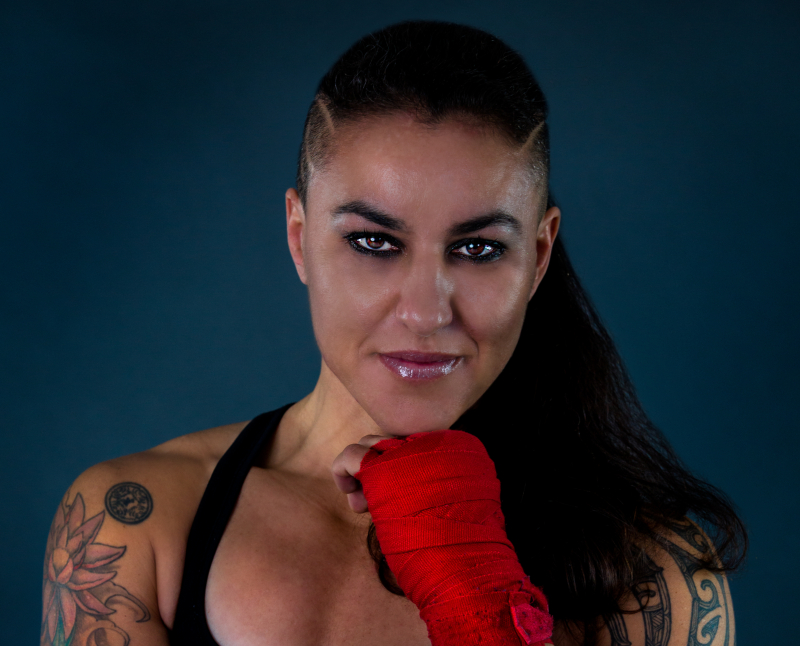 Brazilian Born New Zealand Boxer Geovana Peres has become the WBO World Women's Light Heavyweight Champion in front of a sold out crowd at SKYCITY Convention Centre.
Geovana won the bout with two judges scoring 98 – 92 and the other 96 – 94, winning by Unanimous Decision against Lani Daniels. The LGBTI+ community turned up showing their support for Geovana, as it was noticeable with the rainbow flag being waived throughout the convention centre. The crowd was electric and loud throughout the fight, but the same time very respectful with not a single boo or negative comment was thrown as everyone came to see women's boxing take home the win.
Some of the local boxing legends also turned up to watch the fight as famous New Zealand boxers turned up to watch including Joseph Parker, David Tua, Shane Cameron and Junior Fa. Before the fight, Junior Fa went backstage to give his support to both fighters and wishing them both luck.
Peres fought the much more aggressive fight as Daniels kept on the back foot. Geovana said in the postfight interview "In the beginning, she was running away and I think she realised I was catching her so then she stepped into my game, the clinch, where I like fighting,". In the Post fight interview, Geovana stated she did this to inspire women, to support women's boxing and fighting for equality. "We need this … we need more support for New Zealand women's boxing. As you saw with the girls fighting here, not only me and Lani … we have amazing amateur fighters that are struggling to go to the Commonwealth Games. It's hard, we have to improvise, but we are very talented and I think we showed the world that."
Lani Daniels showed her respect to not only Geovana but paid tribute to the victims of the Christchurch shootings and thanked the promoter and her family for the support. "that was awesome. we did NZ women's boxing proud. Geovana you are a champ, To Geovana, kia kaha well done. Awesome win,". After Lani Daniels left the ring, a massive haka erupted in the corner of the room with over 100 people performing in support of Lani and Geovana.
Backstage after people had cleared and the interviews were done, Geovana's and Lani's team came together in the dressing room to show not only thank each other but to show love, support and respect for each other.
Lani Daniels is hoping to be fighting again in late May to try to get herself to climb the ranks again. Currently, they are aiming to come down in weight to Super middleweight this weight and eventually to Super Welterweight.
As for our rainbow warrior Geovana Peres, she will be taking a couple of weeks off from the gym and then they will assess the next plan. Geovana's goal is to not only to unify the division but hopefully to take on Claressa Shields. Another name that is being considered Mexican boxer and WBC World Heavyweight Champion Alejandra Jimenez.
Congratulations to the New WBO World Women's Light Heavyweight Champion, Geovana Peres as she increases her record 7 – 1 – 0.