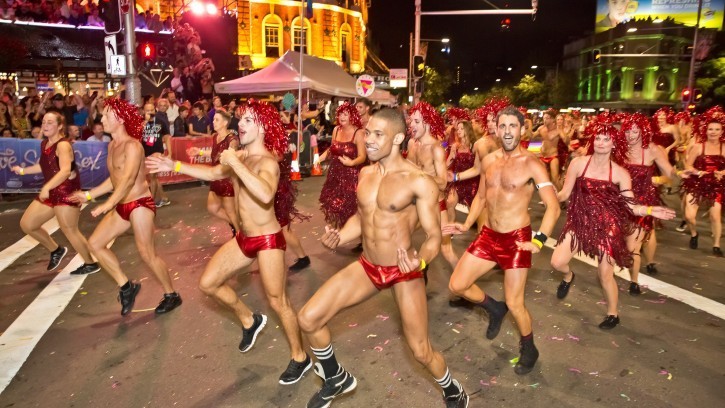 This is not the first time the Sydney Gay and Lesbian Mardi Gras have considered a name change.
Sydney Mardi Gras has notified its members of a proposal to once again drop the 'Gay' and 'Lesbian' from its name.
The move is being pushed by those who feel the current name is not 'inclusive' enough as it doesn't make mention of the Transgender of Bisexual community.
In a statement notifying members last week, Mardi Gras CEO Terese Casu said the move was seeking to make the festival more inclusive.
"Mardi Gras has had many members, community groups and visitors over the year's question us on how we're making our festival more inclusive and how our name could reflect our community and our people's diversity more accurately," Casu said in a statement.
"So we feel it's an important step to take in talking to the community to see what can be done to be more inclusive and reflect all the vibrant colours of everyone under and over the rainbow."
Sydney Gay and Lesbian Mardi Gras operate a mass membership model and any change to the name will require the consent of the organisation's membership base.
Similar name change proposals have failed or been revoked in the past.
In 2011, the organisation changed the name to Sydney Mardi Gras but reversed the decision in 2013 after the change was criticised for erasing the festival's gay and lesbian roots.
The 2013 reversal was driven by the original '78ers,' who held the first Sydney Mardi Gras in 1978. The group were insistent that the words 'gay' and 'lesbian' be reinstated to the event's name.
Speaking at the time of the reversal, Prominent '78er Dr Jo Harrison said the words 'gay' and 'lesbian' must be in the festivals' and parade's title.
"Nothing is ever gained by erasure. Nothing. We only lose. Erasure is not inclusivity," she said.
"That was the case when we were bashed in '78 and it is still the case now. The 'no name Mardi Gras' is not what others and I almost died for. Silence equals death."