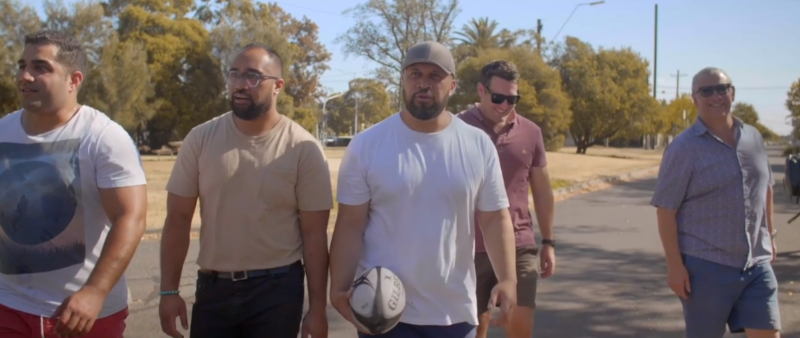 Rugby Australia has featured an openly gay rugby player from the Melbourne Chargers in their new #partofMore campaign which aims to highlight everyday people from the Rugby community and what they have achieved as a result of playing the sport.
Andrew's feature which includes an emotional and inspiring video about his reservation about playing the sport, and the progress he has made since becoming a member of the Rugby community, is also accompanied by a Q&A with Rugby Australia.
When did your Rugby journey begin?
All my brothers played rugby and, when I was growing up, I remember going to watch my big brother Mike play and I would play with the other kids in the mud on the sidelines.
I didn't start playing rugby properly until later because I was quite big for my age which meant I wouldn't have been allowed to play with other kids my own age.
When I was 13, I started playing rugby properly at St Patricks College in Wellington, NZ. And from there, once I finished school, I went into playing club rugby for the Colts team at Marist St Pats. And then I stopped playing for a few years because I went travelling.
I decided to move to Australia because I was focusing on my professional development. When I moved here I knew that playing rugby would give me the opportunity to make new friends and be part of a rugby community again. I ended up playing for the Melbourne Unicorns because my younger brother Nic had played there.
How did you get involved with the Melbourne Chargers?
I'd heard of the Melbourne Chargers through a friend and I thought I'd go check them out and join in a pre-season training session. When I went to training, I met their coach Neil and he told me that the club would really value having me on board. From there Neil asked me to come along to a tournament in Brisbane which was the "Purchas Cup" and I made other friends in the team and decided I would stay.
What has the experience of playing with the Chargers been like for you?
It's made me reflect on my years playing rugby and accepting that it hasn't always been a positive experience. Playing with the Chargers raised a few different challenges for me – the general public's perception of gay men playing rugby as well as gay men's perception of rugby as a sport. It's been a bit of a roller coaster ride but I've learned lots, made some life-long friends with other gay and straight rugby players and been able to pass on what I know about the game by teaching others new to the sport.
How did other teammates treat you after coming out to them?
When I came out to my teammates and family, I actually found them more supportive. I remember them encouraging me to just keep playing and to continue doing what I do on the field well.
How has rugby helped you off the field?
I think playing rugby did help me to become more confident and also just getting older and more mature helped as well. The mental toughness, self-discipline and teamwork that I learned from playing rugby over the years has carried over into other aspects of my life.
What would be your advice to people who are looking to join a sporting community?
From my experience playing in a rugby team, I'd say: find a sport that fits your own physical attributes so you can participate. When you do find a sporting community, talk with people and make friends. If it's a team sport environment, some people can form cliques but you'll need to try and avoid that – work together and be part of the team.
---
You can watch Andrew's story on Rugby Australia's website here