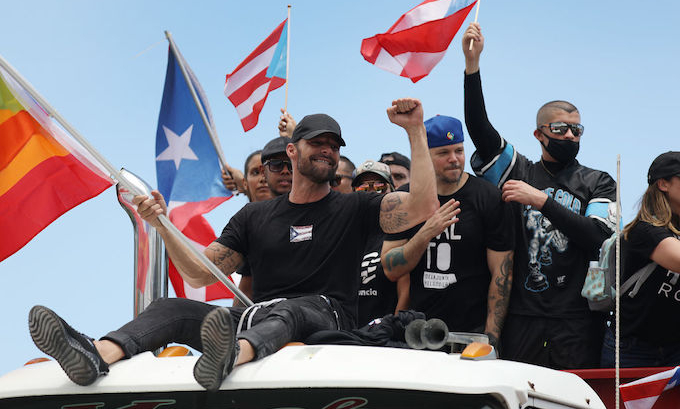 Pop star Ricky Martin has joined in on protests and thrown his weight behind demands to see Puerto Rico's homophobic governor to resign.
Governor Ricardo Rosselló has found himself in hot water following a series of over 900 homophobic and disrespectful text messages between him and his top aides and cabinet members that had been leaked to media.
The messages that feature offensive sexist and homophobic comments reportedly included crude jokes and insults, such as describing a female politician as a "whore" and targeting Puerto Rico-born star Ricky Martin's sexuality.
"Nothing says patriarchal oppression like Ricky Martin," Rosselló wrote. "Ricky Martin is such a male chauvinist that he fucks men because women don't measure up. Pure patriarchy."
The text messages, which are also reported to include disrespectful jokes about dead victims of Hurricane Maria in 2017, have resulted in global condemnation of the Governor and sparked heated protests in the nations capital and largest city, San Juan.
The protestors who have demanded Rosselló resignation despite an apology for the embattled politician, have since gained the support of Ricky Martin himself.
Posting on Instagram, the openly gay singer called on Puerto Ricans to march against the governor and for the disgraced politician to resign, saying that he would join protesters to "walk with my people, with the community… We're going to let Ricardo Rosselló see that we don't want him in power."
Ricky martin added, "they mocked our dead bodies, they mocked women, they mocked the LGBT community, they made fun of people with physical and mental disabilities, they made fun of obesity."
Another post from Ricky Martin also showed the pop star taking part in the street protests, saying "we're tired of the cynicism. It is insane, we are tired, we can't take it anymore."
"I do live in America but I had to come to Puerto Rico to let the world know that we will make a change."