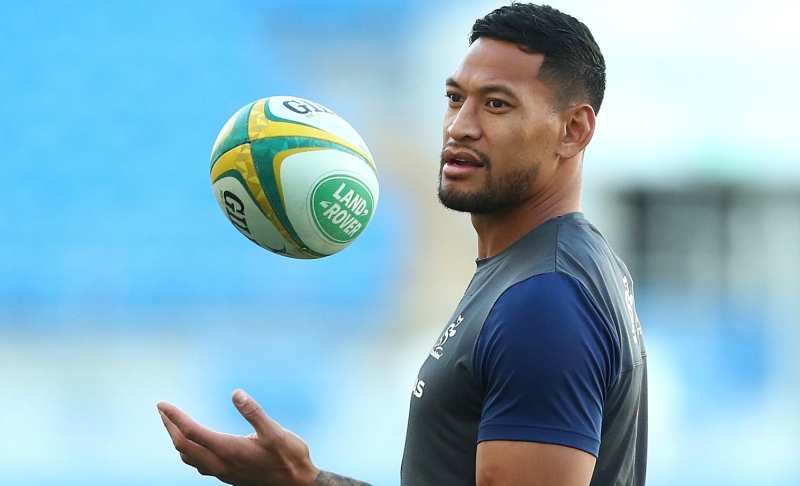 No longer welcome in rugby union in Australia, Folau seeks a return to rugby league – this time for Tonga.
Former Wallabies star, Israel Folau has announced his intention to return to rugby league in time to for Tonga's end-of-season Test against Australia.
According to the statement from Rugby League International Federation, Folau has been granted clearance to play for the Pacific team in the upcoming test claiming he is grateful that the RLIF have endorsed him.
"What I will do now is focus on playing great rugby league and do my talking on the field," said Folau.
Folau's latest switch is a result of his contract with Rugby Australia being terminated after a series of controversial anti-gay social media posts.
The controversy first erupted when Folau took to Instagram in April to post an anti-gay post which read: "WARNING Drunks Homosexuals Adulterers Liars Fornicators Thieves Atheists Idolaters, HELL AWAITS YOU. REPENT! ONLY JESUS SAVES," before adding a bible verse from Galatians.
The post was accompanied by a comment which read, "Those who are living in sin will end up in Hell unless you repent. Jesus Christ loves you and is giving you time to turn away from your sin and come to him."
However, in contradiction to Folau's press statement, chairman of RLIF Peter Beattie has refuted these comments stating there has been no decision in relation to any registration request for Israel Folau.
"I can assure you that this has never been discussed or mentioned around the board table," said Peter Beatie
Following the release on Monday a new RLIF statement said: "The Rugby League International Federation is aware of a media release issued by Tonga National Rugby League stating that Israel Folau has been 'approved' by the RLIF to represent Tonga That statement is incorrect, the RLIF has not been formally asked to consider this matter."
Tongan coach Frank Endacott was quoted to praise Folau's comeback to the game but later told the Sydney Morning Herald he was not mindful of Folau's intention until it was reported.
"I think it would be exciting for the game," he said, stating that it would be exciting for one of the most notable players in the world to return to play for his country.
Endacott claims no discussions have been had between himself and the former rugby union player but says the news of Folau's return can "only be taken as gospel because it's come out in an official press release."
RLIF chief executive Nigel Wood and chairman Graeme Thompson have told NRL chief executive Todd Greenberg that no such assurances had been provided relating to Folau's return.