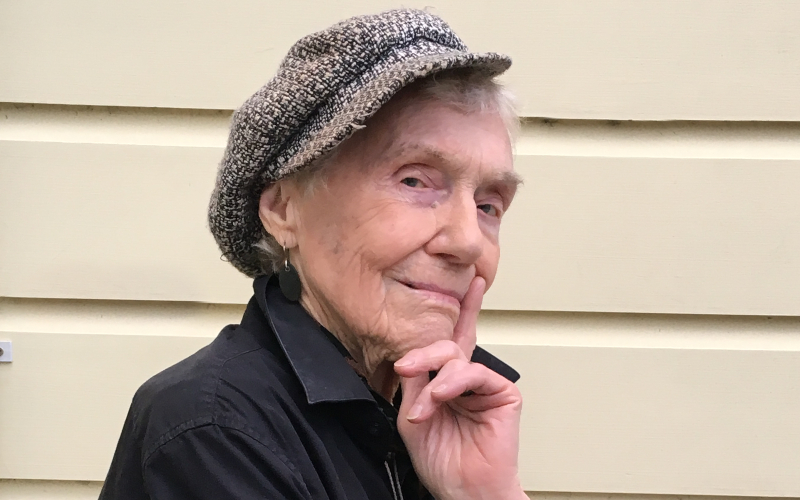 When Coral Trimmer was swept off her feet by Riet Hoagland in 1950's NZ, she had no idea that her fearless lesbian lover was a Dutch WWII Hero who had been imprisoned by Nazis. Sandi Hall delves into their brave romance.
"I was trembling so much and I didn't know why and I asked her. She just gave me this look then took me home to my first night of lesbian lovemaking!"
Vestiges of that joy still shine in Coral Trimmer's eyes as she describes how, in very homophobic 1950's New Zealand, she became lovers with a Dutch war heroine.
"Of course, I didn't know she was a war heroine," continues Coral, a petite wiry figure wholly dressed in white. "Riet never talked about the war. But she did tell me that what she experienced made her want to leave Holland and Europe forever. To go somewhere at the ends of the earth away from all that."
'Riet' was Riet Maria Hoagland, a Dutch writer and journalist who was seized by the Nazis and jailed in the prison in The Hague for putting anti-war leaflets in letterboxes. She was 21.
Their torture of her included denying her the right to change her clothes or wash for three months, even when she had her period, as well as telling her to prepare to be executed.
That same prison in The Hague is the reason that an independent Dutch documentary crew are filming Coral Trimmer in Tiny Theatre at Garnet Station in Auckland's Westmere. Tiny Theatre has invited about thirty lesbians and gay men to meet Coral and the crew to be part of the documentary. Happily, I am one of them.
"The Dutch government has decided to turn the prison into a memorial to the people who suffered there," says camera director Jan Pieter Tuiustra.
"At first, we were only interested in documenting the change but when we looked closer and asked about individual people, we came across Riet, who is something of a heroine in Holland. We thought what a good focus she would make for the doco. And then in her diaries and letters was all this about New Zealand and a New Zealand woman, Coral Trimmer.
"So we googled her name, which led us to the acclaimed Kiwi dancer, Sir Jon Trimmer. He gave us a big surprise when he told us Coral was his sister and still very much alive."
As I speak with Coral, her arm arcs up, hand clutching a small red box. She finishes her sentence and excuses herself to go to the camera crew who are now on the stage. Camera over his shoulder, Jan Pieter focuses his lens on Coral as she takes a large chromatic harmonica from the red box and begins to blow.
Not only is her virtuosity undeniable on the 'harp', as Bob Dylan calls it, it is also undeniable in the way her body moves to the music she draws out of the shining instrument. She moves with the sinuosity one expects in a much younger woman, her 89-year old body, loving being alive under her clothes.
I ask Coral what it was like being lesbian in Heavenly Creatures New Zealand. "It was scary," says Coral, who was born in Petone on Wellington's southern coast.
"You daren't talk about it. Everyone said it was evil, very wrong. I did date boys, and I liked being with them – until I got home, when they expected a kiss. I didn't like that part which I later realized is because I am a happy butch lesbian!"
"When I met Riet, she was working in the [Wellington] library garden. She was always laughing. She had short blonde hair and grey eyes and she seemed to be so strong to me. She was not afraid to be out. One kiss I never forgot was when she deliberately stood me under a streetlamp and kissed me in its glow."
Before coming to Aotearoa, Riet Hoagland had been part of the gay scene in Paris, bringing European sophistication to her New Zealand life. And a lack of fear, the result of having been in that Nazi prison in WW2.
Now living in Melbourne, Coral, encouraged by her brother, will move back home this September, setting her sights on the Kapiti Coast. I just hope she'll be blowing that harmonica again where I can hear it.