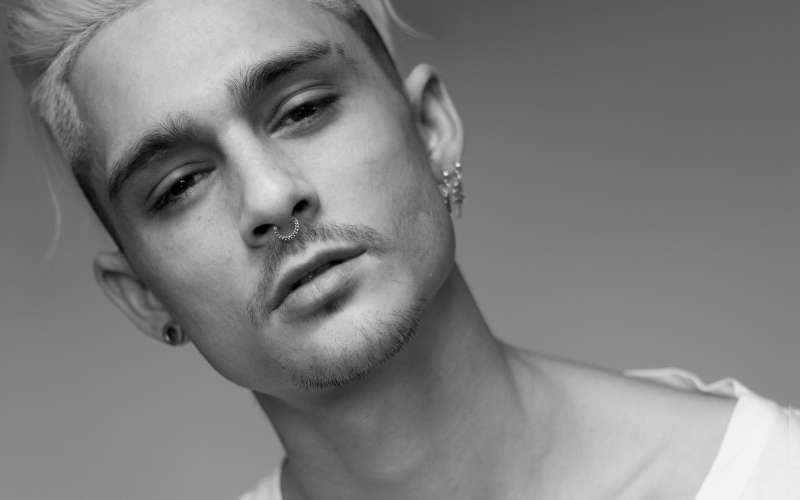 Designer Ryan Turner tells express' Belinda Nash if his work can make one person feel safe, unique and confident being their authentic self, then he will do "everything in his power" to make it happen. 
"My story started with a little messy boy who didn't know who he was anymore, what he wanted to do, or if he was even going to be around to figure it all out. He didn't like who he was, how he looked or how the world viewed him," says Turner.
"He wanted to say a big 'Fuck you' to the world, to himself and to everyone; to mess with the social standards and rebel against anything and everything."
Inspired after meeting friends Zakk d'Larté and Darragh Sheppard, Turner unleashed his expressive, androgynous style; his form of protection.
"They were so interesting, confident and strong, and people respected their unique personal creativity. It was during this time that I found comfort in dressing and feeling different. But because I was so different from stereotypical norms, nobody could tell me I was wrong, because how could you when you couldn't even make out my identity?"
Turner says his design aesthetic is underpinned by his connection to spirituality merged with his inner maverick.
"I'm compelled by the Asian aesthetic, from traditional Chinese Taoist and Buddhist monks to postmodern Japan, while also drawn to a hypersexualised state of being and a self-destructive path," he laughs. 
The 25-year-old's latest collection ABSENT | MINDED is designed to be worn by all genders. An exploration in simplicity that hyper–accentuates femininity while delivering 'fuck you' attitude. It came about amid a "bliss to piss" period in Turner's own turbulent life and emerged as an "oddly beautiful, rough and dirty" collection. 
"It reveals a lot of skin; my quintessential look! Thin straps hold up large volumes of fabric emphasising a feeling of dainty elegance while empowering wearers with 'don't give a fuckery'. It's Cinderella pulling the middle finger to a prince and storming out because she wanted to, not because she needed to."
Disregarding gender norms in fashion, while not new, is a near-impossible challenge for designers up against big–bucks fashion corporations that force the status quo, says Turner.
"Regardless of their amazing work, boundary–pushing designers become marginalised so eventually they cannot continue. It's real sad to see so much talent snuffed out, and what could've had a strong place in society ceases to exist." 
Turner adds that in fashion everything was taboo at some stage, so in choosing clothes, "Fuck the rules!"
"There's no right or wrong. You only get one chance at life, so go live your most authentic self and never let anyone tell you otherwise."
Today, the single Aucklander is readying to move to Melbourne. His coming out story – involving 15-year-olds in a rental van on a road trip and a beautiful blonde–haired, blue–eyed guy – was "too cute it's actually gross". 
"We all chatted and sang for three hours in a van, until you–know–who fell asleep on my shoulder. I literally thought I was going to die. I couldn't breathe or function. My world had just flipped upside down because I'd never been attracted to a guy before. The only thing I could think to do was pretend to be asleep too."
That boy became Turner's first kiss and first boyfriend for three years until they parted ways. 
"There will always be a special place for your first love. It's a beautiful thing to know that things do get better, you heal and you move on. That eventually the idea of not only seeing them happy but also prospering, makes you smile. That's a pretty cool thing."
---
For more information head to facebook.com/ryanturnerapparel