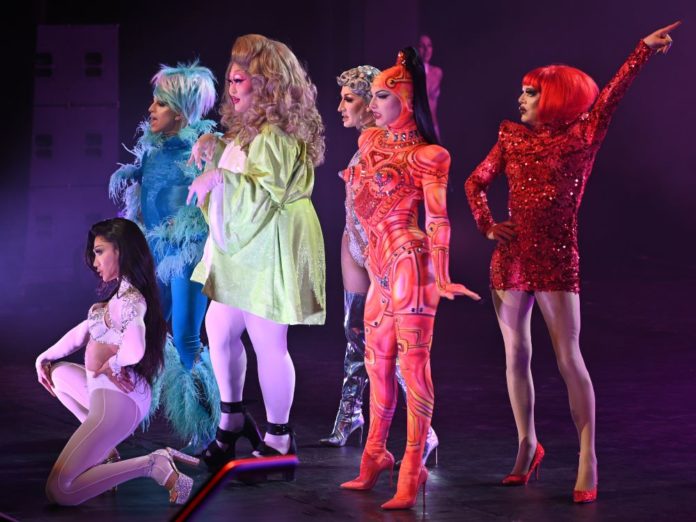 Star of Season 8 of RuPaul's Drag Race, Kim Chi, slayed at 'Werq The World' in Auckland last night. She discusses her Anime obsession, dating apps and getting paid; with House of Drag Season 2's Elektra Shock.
Which of the RPRD queens is your favourite to tour with?
Naomi Smalls, Plastique Tiara, Bob the drag queen, Monet Exchange, Detox, Shangela… I could go on.
What's something that annoys you when meeting fans?
Questions that are too personal. I don't know you like that Miss Thang!
If you weren't a performer what would you be and why?
A god.
What has been your best experience in drag?
Being able to perform in South Korea to a sold-out audience! That truly was a dream come true.
What has been your worst experience in drag?
This interview!
Its feels like a new drag race spin-off is being announced every month! What would Kimchi's Drag Race look like if there was one?
A dating show similar to Flavor of love and I love New York. I think it would be fun!
What do you think of baby queens working for free?
I can see both sides of the argument where some queens are willing to work for free to get their names out there. Some queens want to be compensated fairly for their time, effort and money that went into their craft. When I first started, everyone had a set fee.
With more and more young people falling in love with drag, do you think the art form has separated itself from the club scene and lost its adults-only element?
Drag is not limited to clubs. If we trace the origins of drag, it actually goes back to the theatre, where women couldn't be on stage, so men got in drag to play those characters. Drag has evolved so much now where to me, doing drag simply means using gender to create art. Drag can be in the clubs, theatre, library, protests, anywhere the artists want to take their characters to!
You've described your drag character as a 'live-action anime.' If you could become any anime character, who would it be?
Rimuru Tempest from 'That Time I Got Reincarnated as a Slime'. He makes so many trust worthy companions and can achieve anything he wants to do. I would like those two super powers.
During your time on RPRD and throughout your career you have brought awareness to the negative use of terms like "Fat, Fem & Asian" on dating apps. Do you think this sort of language has reduced on the apps today?
People are more aware of the issue and have been calling out people who do so, so I would say yes but it's something that won't go away in the dating community completely anytime soon.
What are you obsessed with right now?
Ragnarok – it's a fun mobile game that I've been playing non-stop!
What is something no one knows about you?
If I told you, I'd have to kill you!
RuPaul's Drag Race Werq The World Tour plays Wellington's Michael Fowler Centre tonight. werqtheworld.com
Follow Elektra Shock on Instagram: @its.elektra.shock
Photos | Peter Jennings.