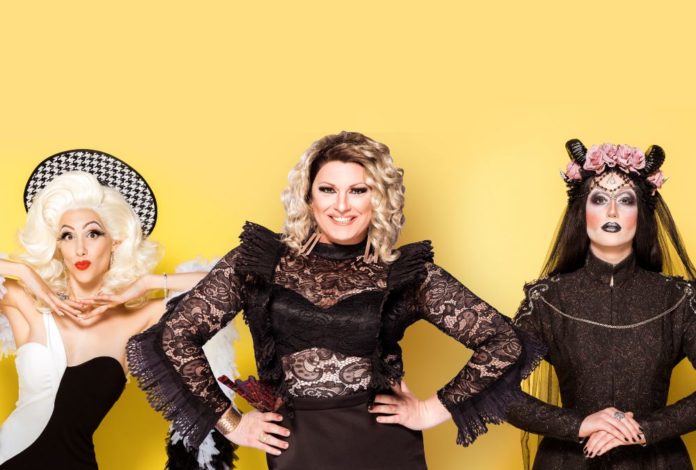 OnDemand's House of Drag Season 2 shocked it's competing drag stars by throwing three invaders, Lilly Loca, Spankie Jackzon and Miss Geena, into the mix. We caught up with them to find out what it was like to enter the hostile house.

LILLY LOCA
"I'm so incredibly proud to have been on HoD as one of the only artists who does both drag king and queen represented on reality television, as well as being an assigned-female-at-birth (AFAB) performer.
"My time in the house was… quite a time. Apart from my intruder sisters, others in the house didn't see my drag as valid because at the time I identified as heterosexual, came from a theatre and cabaret background, and I wasn't from the 'club' scene.
"I now identify as bisexual, a hetero-romantic bisexual – yes, we exist!. The thing I'm super thankful for with HoD is that it really forced me to take a good hard look at who I am and how I identify. I firmly believe that #dragisforeverybody regardless of who you are, your sexuality or how you identify. All drag is valid. If you have a body, you can do drag.
"My aim on HoD was to showcase my ability as a chameleon and my talent as an actress and drag artist while staying true to myself and being kind. I came, I saw… but do I conquer?"
SPANKIE JACKZON
"I'm super excited and honoured to be the oldest (and sexiest) girl in the cut, after performing in Melbourne for 12 years professionally and coming home. HoD has definitely been an eye-opening and mind-altering experience. Being an unknown queen here in NZ has its ups and downs in the house and being in a house of younger queens is so gross – the mess! It's been rewarding and refreshing to understand how the new generation of queens think, feel and express their drag. Even though my views may be different at times, I grew to accept and understand.
"Us old people can still grow. I gained so much from this experience and feel I sucked the youth out of them at some point, as I feel revitalised from their amazing creativity and new take on this art form I have lived my life for as they start theirs. I feel so proud to be intruding on their toes. They should be ready because us cougars come prepared."
GEENA
"I felt super confident entering as an intruder. I'm into my fifth year of drag and being the only trans drag artist this season, I knew I would bring something special to the competition. It does mean that I have a lot of pressure to not only represent my fellow trans sisters and brothers who do drag, but also the transgender community. Representation matters and can make all the difference to those who need to see it.
"Some of the original drag stars believed we had an unfair advantage coming in late and didn't deserve to be there. But being an intruder meant we had it harder; we had less time to prove ourselves and we were easy targets. Whatever alliances had formed before we arrived could now band together to get rid of us. But I went in ready to play the game Survivor style! I'm the most confident and strongest I've ever been, surviving abuse and depression. The show pushed me to start taking my drag more seriously, like trying something new with my makeup every day and investing more time and money post-show. Get ready New Zealand because your queer pop princess is about to POP OFF SIS!"
Are you #teaminvaders? New episodes of House of Drag debut on TVNZ OnDemand every Saturday.
Photo | Tom Hollow.