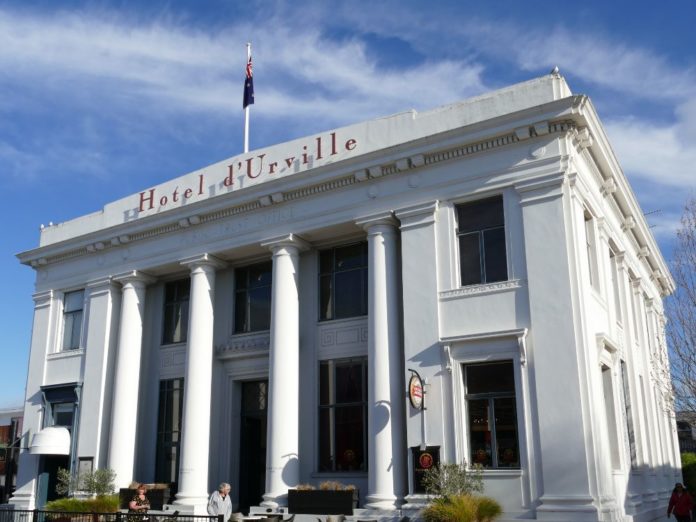 Just a drive from Christchurch, a ferry from Wellington or a flight from Auckland, Marlborough is one of the world's greatest wine regions and at its heart sits Blenheim. Now the town boasts an ornate historic hotel, that combines modern hospitality with a class from the past.
When you pull up to Blenheim's Hotel d'Urville the size and beauty of the 1900's Trust Building is instantly impressive. Walking into the reception area with its 30-foot high ceiling adds to the majesty. It becomes easy to forget you're in a small South Island town with the bustling cocktail bar to your right and funky modern restaurant on your left.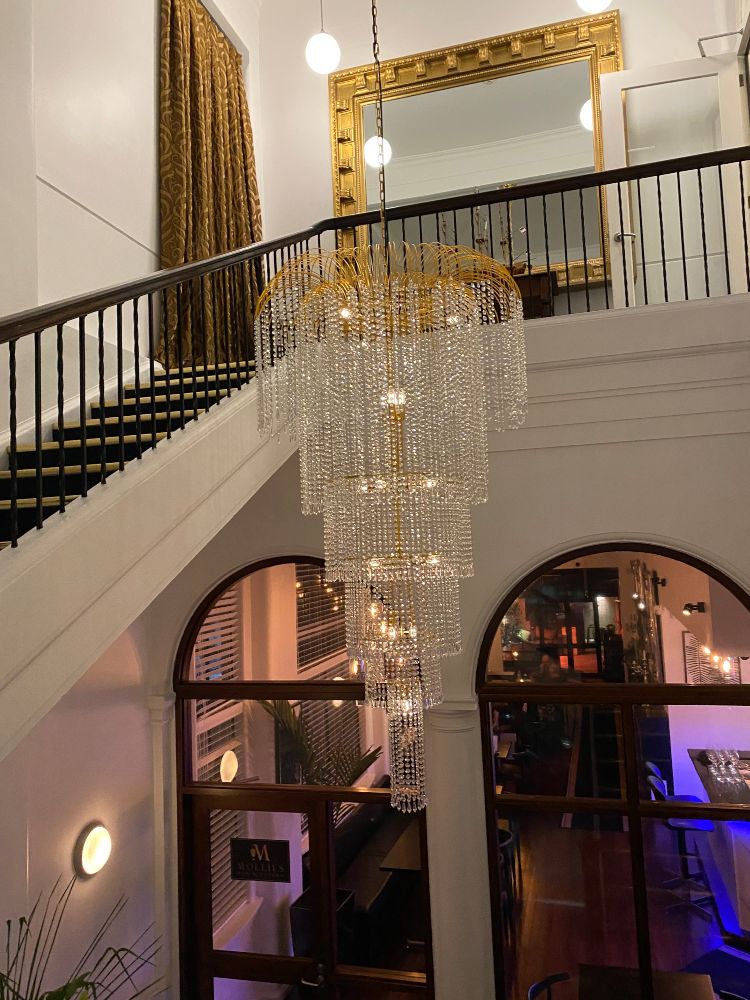 Room key in hand we descend up the spiralling staircase with a huge gold chandelier serving as its spectacular centre-piece. Owner Wayne Clark – the man behind many of Auckland's most successful LGBTQ venues – tells us about an American couple insisted on filming themselves walking down the staircase in drag, the minute they clapped eyes on the chandelier. RuPaul would be proud!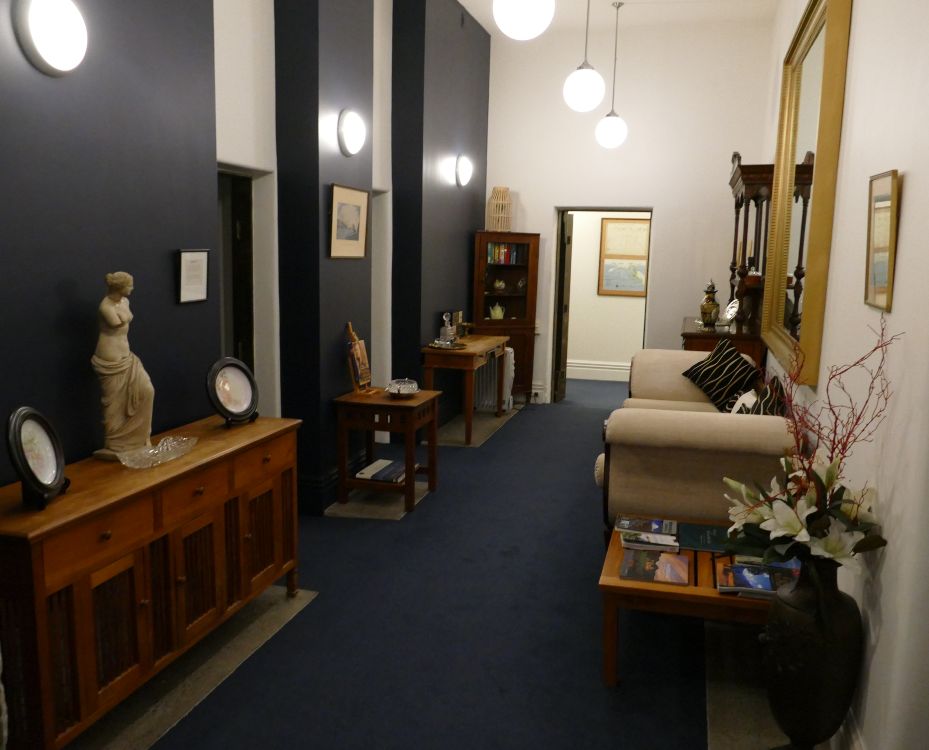 We are staying in one of the ten themed-rooms the boutique hotel offers. To get to it, we walk through an upstairs lounge, lined with antique furniture (including an exquisite chaise-lounge) and offering a glass tumbler full of complimentary port.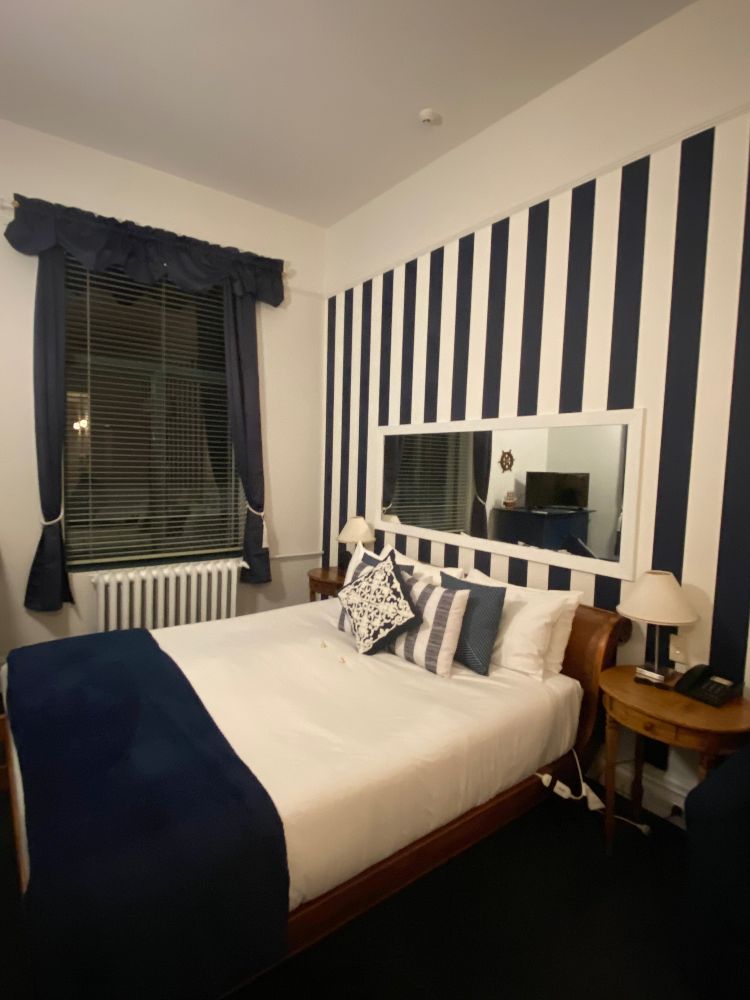 Our room has a striking nautical theme, decked out in navy blues and creams – with pictures of large sailing ships from a time gone by. Jean-Paul Gautier would feel right at home!
The hotel room has a truly boutique feel. All of the furniture is original antique pieces, handcrafted and made from heavy wood – nothing you would ever see in a chain hotel or Air BnB. I'd like to stay longer and appreciate it but my partner James is desperate for a cocktail!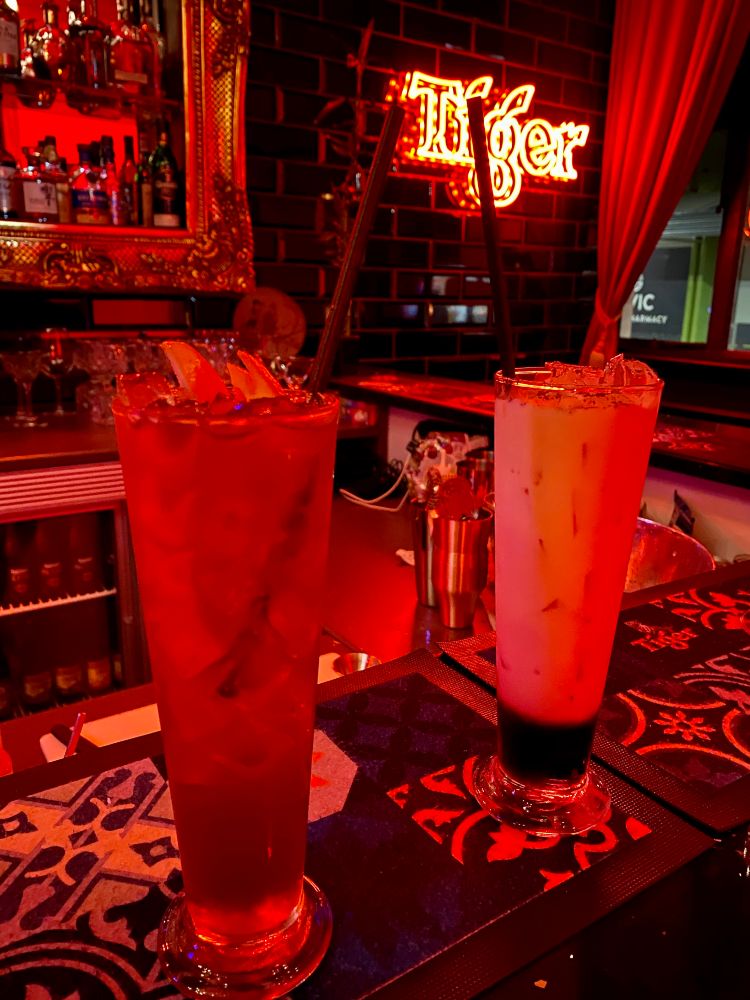 Luckily one of NZ's best cocktail bars Bamboo Tiger awaits downstairs – bathed in warm red light with plush oriental furnishings – it's a formula Clark had perfected in Auckland, Rotorua and Nelson before taking it to Blenheim.
While James digs into the extensive gin and cocktail lists (the Blenheim Lady is a must-try), Clark tells me about his journey with the hotel. Purchasing it a few years ago when the building was run down and investing over half a million dollars into refurbishing it to its former glory with a modern makeover.
The next day we are picked up by Explore Marlborough Wine Tours. We are in the heart of Aotearoa's Sauvignon Blanc capital and what could be better than a day sipping some of that?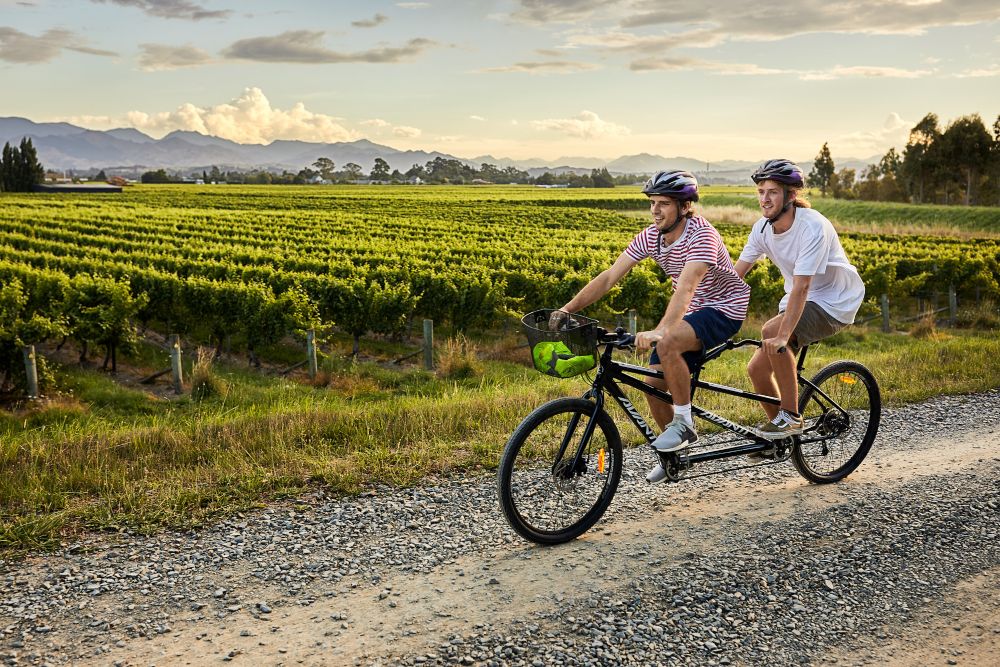 Explore Marlborough is one of many tour companies offering a range of wine tasting trips – we opt for the freedom of a self-guided experience, and the romance of a tandem-bike to take us from each vineyard to cellar door. Saddle-soar aside, we love it!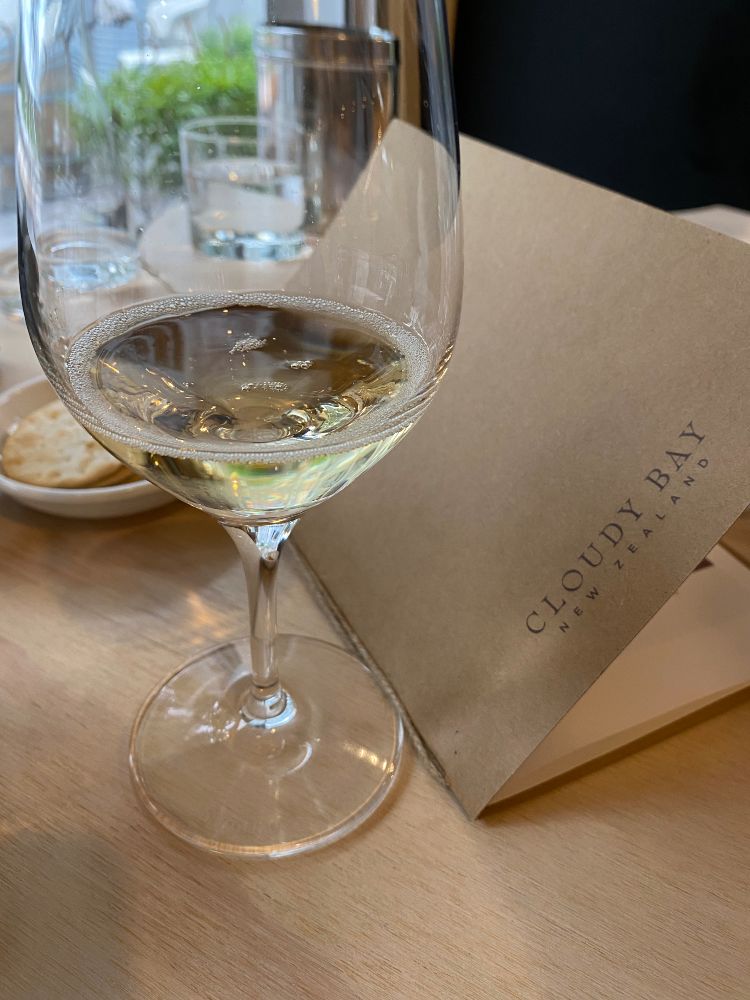 Winery-wise you can't miss Cloudy Bay. In these less-touristy times, you can really appreciate it's elegance. We loved Framington who are famous for Summer concerts and gorgeous Gueavertraminer and Wairau River who serve a lovely lunch and refreshing Riesling.
We conclude at the Moa Brewery, who's Westie-chic and hoppy-goodness provide the perfect antidote when you're feeling all graped-out!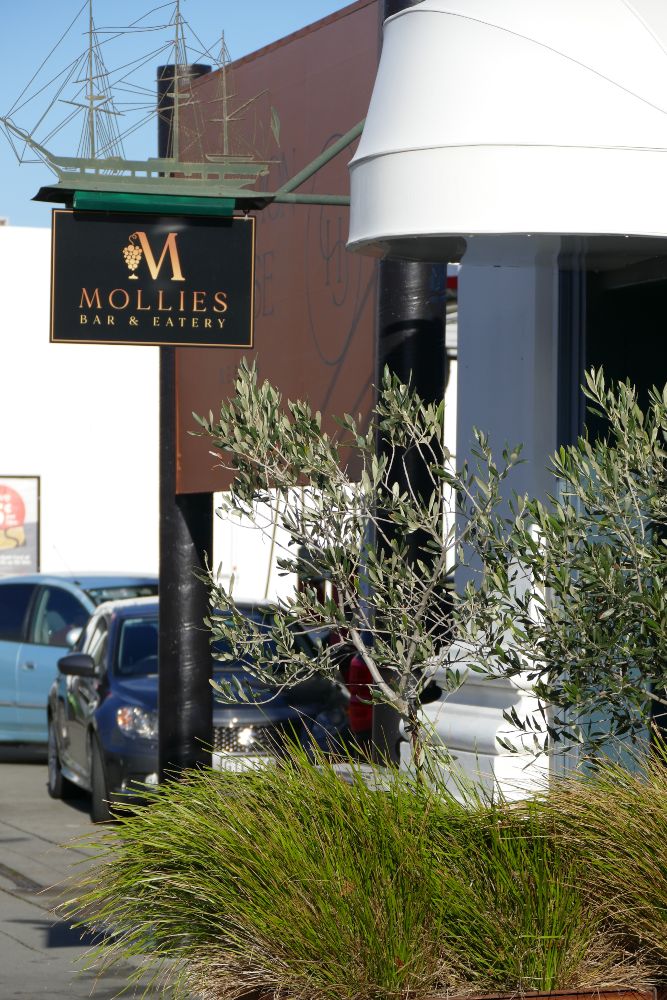 Returning for our final night at the hotel we finish things off with a late dinner at the d'Urville's restaurant, Mollies (named in memory of the late, great Herne Bay hotel).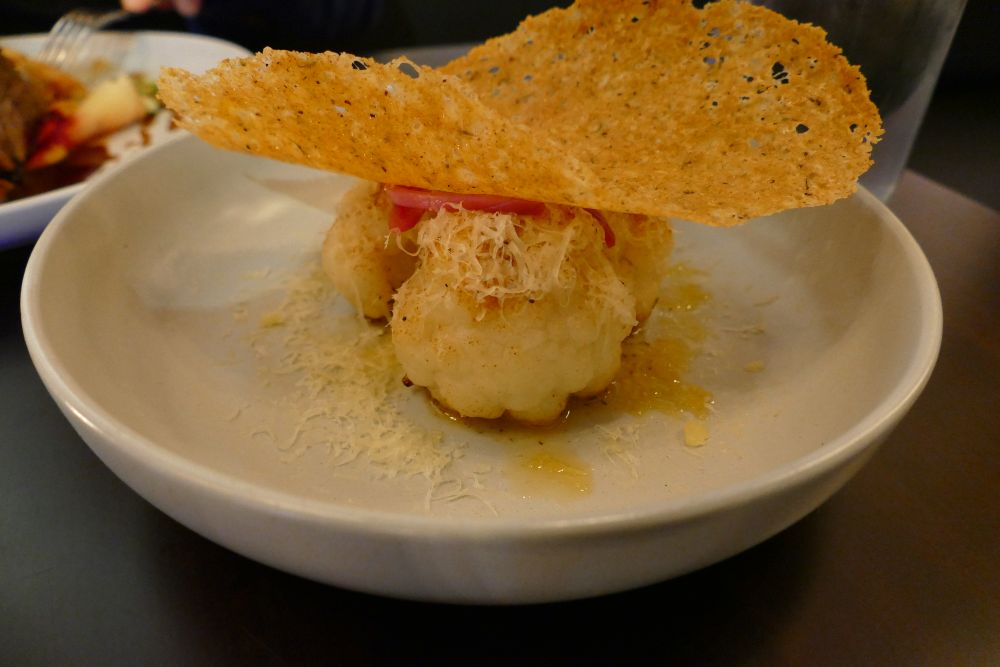 The young French chef has given Mollies a colourful urban menu with international flavours that stretch from Europe to the far East. You dine surrounded by modern Maori art, ornate candlesticks and open flames. James has to pinch me to remind we're still in Blenheim!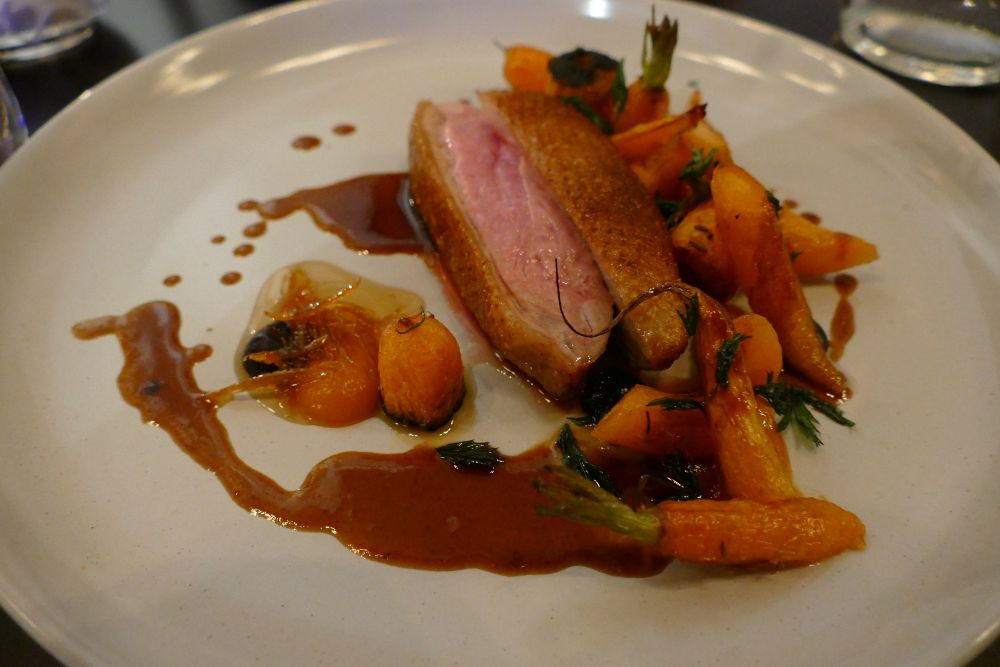 Don't miss the duck or the tuna tartare.
Throughout July, August and September Hotel d'Urville are offering a special package that includes two nights in a large room with private bathroom and continental breakfast, plus a set menu dinner for two – all for $495. Get in quick!
To book email info@hoteldurville.co.nz or phone 03 577 9945.