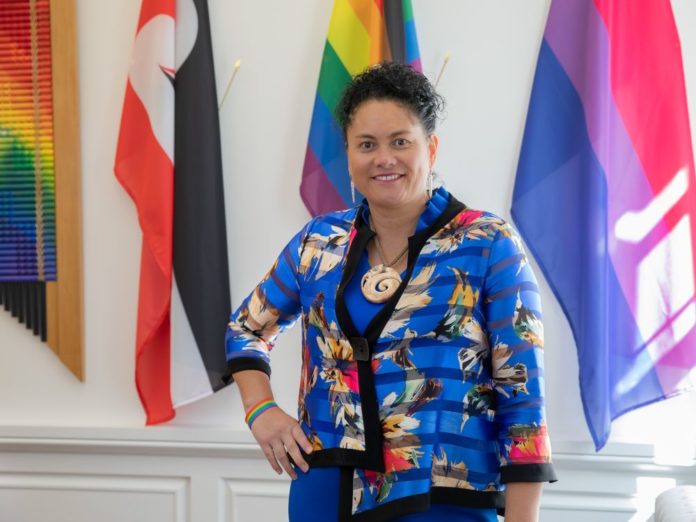 Labour MP Louisa Wall speaks exclusively to express on the Manurewa selection race and the role homophobia may have played in her withdrawal.
The Labour MP for Manurewa isn't going anywhere.
Despite withdrawing her candidacy to recontest the Labour selection for her safe South Auckland electorate, Louisa Wall is all but guaranteed a return to Parliament at this year's election.
With the list being released in mid-June, Wall who is ranked 29, is the only current MP who is a non-minister or party whip within the top 30.
Wall has too much to do and is committed to remaining a champion for Maori and LGBT rights causes within Labour and the wider party. Wall tells express her list ranking of 29 is reflective of the respect she has both within the caucus and the wider party.
There is a sense of freedom in Wall's voice when she tells me she is looking forward to campaigning across New Zealand to "ensure Labour and Jacinda Ardern are returned to office." For Louisa that means campaigning for the Party vote and to lending a hand to her friend Nanaia Mahuta in the Maori electorate of Hauraki-Waikato.
A number from within the Rainbow community that I spoke to, and from across the political spectrum are relived that Wall is guaranteed a return, as well as voicing disapproval with the way in which she was treated.
Louisa Wall's advocacy for LGBT+ rights has seen her make international headlines not only as she championed marriage equality in New Zealand but at the United Nations in New York and encouraging the decriminalisation of homosexuality across the globe.
The member for Manurewa is the first to admit that her original pathway back to parliament was by re-contesting her South Auckland seat. Wall has been the member for Manurewa since 2011 and holds one of the largest majorities in the country.
Wall was challenged by two other candidates, with one of those candidates succeeding in their challenge, when Wall decided to withdraw her own nomination.
Internal party selections don't often interest the public, but the race drew significant attention from the Rainbow community as the mother of marriage equality faced the possibility of not returning to Parliament.
Wall had a number of high-profile supporters in her corner and there was anger from many, with community stalwarts such as former National MP Marilyn Waring speaking out in support of Manurewa's incumbent MP.
So what happened exactly?
Ultimately Wall didn't want the fight to carry on needlessly creating what she calls a "distraction for the Party."
Wall tells me in no uncertain terms that she retained support from her local party and union delegates in Manurewa right to the end.
"This whole idea that I had lost the confidence of my LEC is completely incorrect."
Wall asserts that she not only held the support of her local party but also the largest Labour affiliated union in the electorate. "I was endorsed by the ETU union, a relationship which began with (ETU's predecessor the Service and Food Workers Union) when I was washing dishes at Taupo Cobb & Co in the '80s."
Despite some media reports, Wall never threatened legal action against Labour.
"I didn't take the Party to court. That was other people who put that idea in the public domain. I had legal advice saying there were issues with a late nomination but in the best interest of the Labour Party, I have found a pathway that will allow me to continue to be a proud representative of the NZ Labour Party."
There was some chatter within the wider Rainbow community that homophobia may have played a role in the challenge to Wall's hold on Manurewa.
Surprisingly Wall says she hasn't ruled that out.
"No organisation is exempt from homophobia, racism or sexism. There is always more we can do. Obviously, the New Zealand Labour Party is committed to representative democracy through diversity policies."
"I think there are some religious leaders in the pacific community who don't like who I am or what I do."
"There is some element of cross over with those views and some members in the Labour Party. I'm not going to deny that."
Wall takes issue with the perception that certain church ministers' conservative views on morality are reflective of the entire pacific community, something she says is not true.
"I have issues with Church leaders and Church philosophes. That's not about ethnic groups in general."
We ask Wall about one of those churches in her electorate, that of Brian Tamaki's Destiny Church.
Wall says she has no real concerns about the Tamaki's or their influence, something she sees as rather limited and has not been troubled by the Church despite being headquartered in Manurewa. "I've never seen or felt that they were trying to use my LGBT status as an issue to mobilise against me."
What about in the Waiariki electorate?
"Do I think they are doing that to Tamati [Coffey]? I think it's a curious election given she (Hannah Tamaki) doesn't live there. But obviously Rotorua has become a base for Destiny Church."
Wall predicts that Tamati will hold the seat of Waiarki easily saying she has no doubt he will "mobilise the Labour vote" in the seat.
When it comes to the Tamakis and Destiny Church, Wall says directly "I don't think they're influential outside of their own membership."
Article | Levi Joule. Photo | Jackie Cooper.