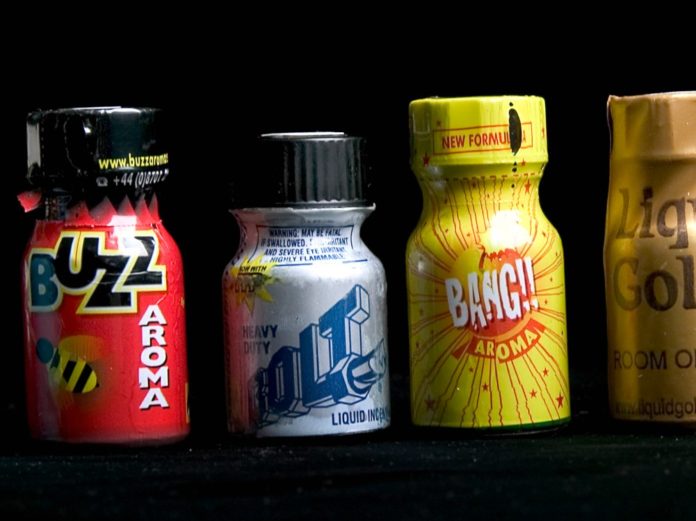 The move comes after Medsafe has told suppliers of poppers in New Zealand to "destroy all remaining stock."
Boris Johnson's government is looking to legalise poppers in the United Kingdom.
Alkyl nitrite preparations, widely known as poppers, have been in a legal grey area since 2016 when they were granted a last-minute reprieve from being placed on a ban on legal highs following a campaign by the LGBT community in the United Kingdom.
Now the Home Secretary is seeking legal clarification around the current legal status of the drug, indicating a willingness to have them fully legalised.
In a letter to the Advisory Council for the Misuse of Drugs (ACMD), Priti Patel wrote that she was "minded to" legalise Poppers.
"However, a Court of Appeal judgment in 2018 confirmed that substances which have only an indirect psychoactive effect can still be captured by the 2016 Act," she said.
"As a consequence the lawfulness of the supply of poppers is uncertain. I am minded to remove this uncertainty by explicitly exempting poppers from the 2016 Act. I would seek the ACMD's advice on an exemption.
The Home Secretary's letter comes as surprise as Patel has not been very friendly to LGBT causes in the past and voted against the 2013 Marriage (Same-Sex Couples) Bill, which introduced same-sex marriage in England and Wales.
The move in the United Kingdom comes just months after poppers were moved to being a prescription-only drug in New Zealand.
Body Positive's Mark Fisher confirmed to express that poppers have been banned in New Zealand saying the result of the most recent MCC meeting means it is now "illegal for poppers to be sold within NZ and suppliers have received notification from med safe informing them to destroy remaining stocks."
Fisher along with a number of other prominent sexual health advocates have been vocal in their opposition to the move.