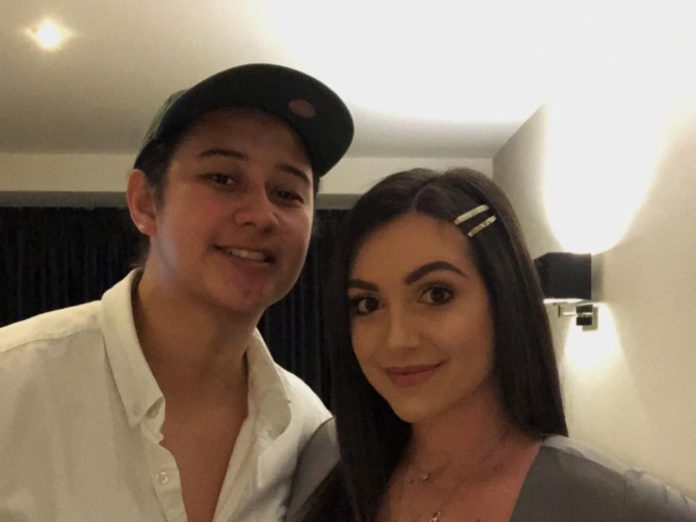 The venue refuses to apologise after the woman says she had to "lift my top up to reveal my gender."
An Auckland couple have been left shaken after being kicked out of a popular bar along Auckland's Viaduct Harbour on Sunday night without explanation.
Jana Tauroa-Rauhihi and Taran Higgins say they were asked to leave AndrewAndrew after Tauroa-Rauhihi's gender was questioned when they used the toilet together, Newshub reports.
The lesbian couple say the exchange began when a bouncer questioned why the pair were using the bathroom at the same time as each other. "The bouncer comes in says, 'No male and females in the toilet at the same time, it's separate' and we were just like 'What, I'm definitely not a male. I'm 24 and I think I know this by now'," Tauroa-Rauhihi said.
The couple said the situation then escalated. "The bartender came in and started banging on the door 'Get out, on one person at a time. Leave straight to the front door'" Tauroa-Rauhihi told Newshub.
After leaving the bathroom, the couple were accosted by two staff members – the bar's bouncer and a person Tauroa-Rauhihi believes may have been the manager. Tauroa-Rauhihi said the two staff members alleged she was male and reprimanded her partner for having a man accompany her to the women's cubicle.
"They kept saying [to my partner] 'he can't be in there with you'," Tauroa-Rauhihi said. "She was trying to tell them 'SHE is not a HE, she is a she!'. It got really heated."
Tauroa-Rauhihi said she also had to repeatedly convince the pair she wasn't male and "in the end, I lifted up my top to show them I wasn't."
Higgins believes her partner was unfairly targeted because she was wearing male clothing. "I don't necessarily get confused for my gender, but I don't think it's fair for anyone to make assumptions. Just because she dresses up in guys' clothes does not make her a guy."
Despite the story making headlines across New Zealand media over Tuesday evening, AndrewAndrew are not apologising.
In a statement to Teao Maori News, AndrewAndrew spokesperson Richard McCabe said the bar was a place that welcomed everyone, regardless of their sexual preferences.
"We pride ourselves on our inclusiveness. Our team has a responsibility to keep all customers safe."
McCabe said it was "regrettable" that the incident occurred but stopped well short of an apology to the couple.
"At no point did any of our staff members make any accusations regarding the gender of the customers involved. It's deeply regrettable that this occurred, and we understand this would be hurtful and cause upset for those involved."