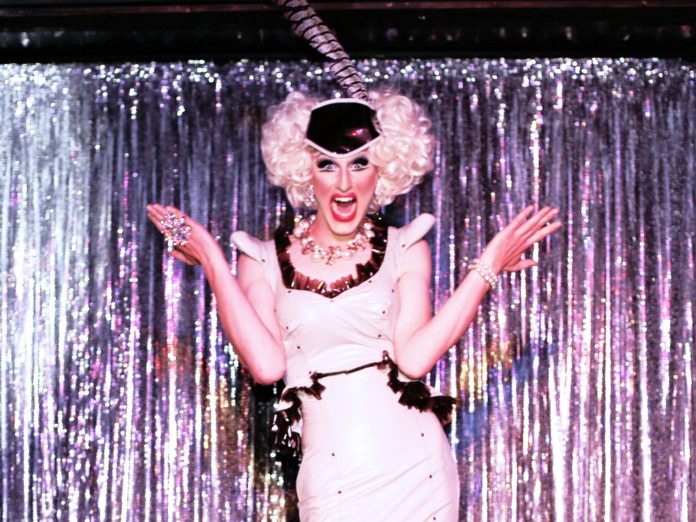 Anita Wigl'it, one of Auckland's most prominent drag queens, talks to Levi Joule about her experience.
Nick Kennedy-Hall, also known by his stage name Anita Wigl'it has been a proud Catholic longer than he has been a proud, out gay man. "For 31 years I've been going to church. I'm been out (as gay) for 10 years but that never stopped me from attending every Sunday."
The most recent Sunday was no different, with Kennedy-Hall waking up early to attend a service at St Joseph's Catholic Church in Grey Lynn.
All was going well until one member stood up and began distributing campaign material from the New Conservatives and another got up to give a speech in front of the congregation. "This guy stood up while another guy was handing out booklets from the new conservative party which had anti-abortion and anti-gay messages in it," Kennedy-Hall tells us.
Kennedy-Hall believes both men had an affiliation with the far-right New Conservative party
The well-loved Auckland drag queen decided she was not going to sit by while the individual at the front of the church went on a lengthy homophobic and transphobic rant. "I don't know what possessed me, but when he went and started talking about homosexuality and transgenderism being wrong before I knew what I was doing I marched straight up to the front of the church and made my case."
Kennedy-Hall went to the front of the church and made an impassioned speech to the congregation, saying that he couldn't help the fact that he was gay and that he wanted to belong to a church that would be accepting of him and not allow the sort of bigotry that the New Conservative affiliated individual was sprouting.
"This is the reason why people in the rainbow community commit suicide." Kennedy-Hall pointed out to the congregation.
Speaking of the spur of moment speech, Kennedy-Hall tells express that it happened before he could even fully realise it. "I don't know what came over me, but I just thought that I've been a part of this church for so long. I can't listen to this anymore."
Following his impassioned speech, Kennedy Hall says he, "just stormed out, nobody followed me or anything." Kennedy Hall says that he had wrestled with some accepts of the church but was still a committed believer.
"That was the last straw. I want to stress that Catholic people are not bad people. There were a lot of people at St Joseph's who were really accepting."
Kennedy-Hall is still proud of his faith and will not be giving it away, but says he wants to find a more inclusive church. "Basically, I just want to find a new community." In the meantime, Kennedy-Hall tells express that he will be trying St Matthews in the city.
Kennedy-Hall believes the role of the church should be to preach love and "help the downtrodden" not attempt to regulate sexual morality. He also has a message for other Catholics and Christians. "I would just say that you have to feel comfortable and feel loved in the situation you are in. There comes a time you can only be pushed so far."
The beloved drag queen is also not going to be apologising and urges other LGBT Christians to speak up. "You've got to remove yourself from those situations, it's our duty to defend ourselves and our community. I think I would feel guilty otherwise."