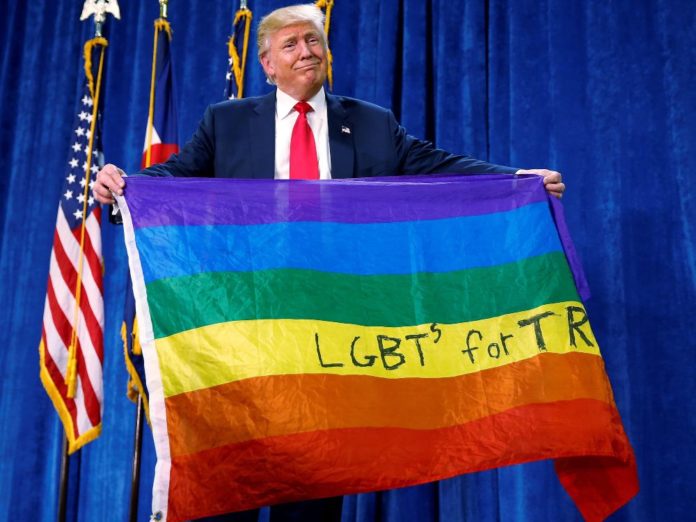 While Biden overwhelmingly won LGBT voters, Donald Trump strangely improved on his 2016 election result with the constituency.
Joe Biden won LGBT voters overwhelmingly, despite an improved showing from President Donald Trump.
An exit poll for the National Election Pool collected from 15,590 voters found 7% of respondents were gay, lesbian, bisexual or transgender.
The New York Times reports that of that figure, 61% voted for Biden and 28% voted for Trump while non-LGBT voters split more evenly with Biden winning 50%/48%
Former Vice President Biden campaigned on supporting the LGBT community telling The Human Rights Campaign, LGBT Americans deserve "a partner in the White House."
"Together we'll pass the Equality Act, protect LGBTQ youth, expand access to health care, support LGBTQ workers, win full rights for transgender Americans, recommit to ending the HIV/AIDS epidemic by 2025 [and] advance LGBT rights around the globe, not just at home," he said.
Despite President Trump's anti-LGBT past, including opposing LGBT workplace protections, his campaign still continued to claim the President supported our community.
"[He is] the first president to begin his presidency in support of marriage equality," said Richard Garnell, a member of the Trump campaign advisory board. That statement is false, with Donald Trump saying he opposed same-sex marriage in 2015 and only favoured "traditional marriage."
Nevertheless, Trump improved on his 2016 showing with LGBT voters. 78% of LGBT voters backed Hillary Clinton compared to 14% who said they voted for Trump in that year's election.
The exit poll results come as Sarah McBride, the first transgender state senator was elected in Joe Biden's adopted home state of Delaware (the former Vice President was born in Pennsylvania).
Meanwhile, in New York, Democratic congressional candidate Ritchie Torres made history becoming the first openly gay African American to be elected to Congress CBS News reports.
In the west, Nevada officially overturned a previous ballot measure which stated Nevada's opposition to same-sex marriage (an initiative which became void after the US Supreme Court made marriage equality a reality across the entire country in 2015).