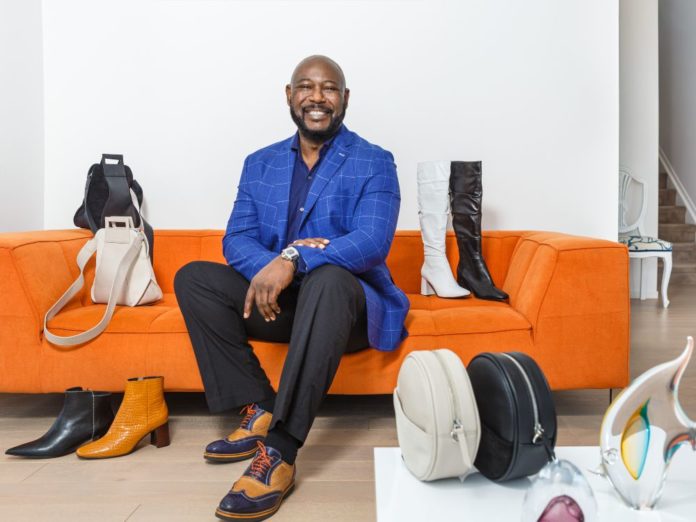 Propelled by the thought 'If you can't find what you want, why not design it?' Nnamdi Ikechukwu launched his career as a designer. Belinda Nash followed up with the West African British Kiwi to hear more.
After realising he wanted to design premium leather products, Nnamdi Ikechukwu's next question was "How?" He answered by taking "one step at a time."
"I woke up from a very vivid dream where I saw myself designing and selling shoes, and I knew that was the path for me. I had no training whatsoever in the fashion industry but a clear vision of what I wanted," says the then UK-based creative.
"So, I employed two CAD illustrators in London who brought my inspirations to life, and made contact with the first factories in Spain who sampled my designs and all started!"
Nnamdi Ikechukwu was born in Crewe, a small town in Cheshire in the North of England known for its tanneries, moving at aged 3 years to the coal-mining town of Enugu, Nigeria. He emigrated to New Zealand in 2012 and, following a brief stint in Wellington, moved to Auckland's picturesque Hibiscus coast.
He says thanks to the relationships he built in Europe, operating his label ikésenti – meaning power and saint – means the distance from his ethical artisan manufacturers in Brazil, Indonesia, Portugal and Spain is no barrier.
"Once, in Milan, I struck up a conversation with a guy over breakfast who eventually became a key factory contact and was instrumental in manufacturing one of my collections," he says.
"I am adventurous by nature and love travelling so I will go anywhere in the world to achieve my dreams. Patience and determination are key."
Ikechukwu, who celebrates his 55th birthday in December, says he was inspired by growing up surrounded by "confident women with a reverence for fashion", in a culture where shoes were a status symbol passed down through the generations, "like the Crown Jewels."
"Their outfits were never just about utility, they were a means of expression, they held power," he says. "They combined cultural and contemporary in a way that felt so natural and elegant and I wanted to echo that spirit."
Ikechukwu says he designs for, "the confident person who wants to embrace and express their individuality through fashion."
"I love people who purchase shoes and handbags from a place of desire. They might already have several shoes and handbags in their wardrobe, but want another pair anyway," says Ikechukwu.
He adds that he's proud of his design story which merges his West African colour and vibrance with the traditions and quality of Britain.
Today Ikechukwu's attention is focussed on honouring Papatuanuku, adding that prior to engaging Italy's most prestigious tanneries, he did his homework.
"We all have a responsibility to the planet that gives us life. If we treat the earth with respect, we are respecting our own lives," he says.
"I'm really careful and particular about where the ikésenti leathers come from, how the animals were treated and how the tanneries processed their products to ensure all care and attention to the environment is made and by extension, the customer."
This year, Ikechukwu has been energized by the innovative Kiwi spirit and our renewed affection to support the local economy.
"There is great fashion talent here in New Zealand and we must discover, support and encourage it to move forward as a nation and a species. There is not much more important than that."
Photo | Robin Smith