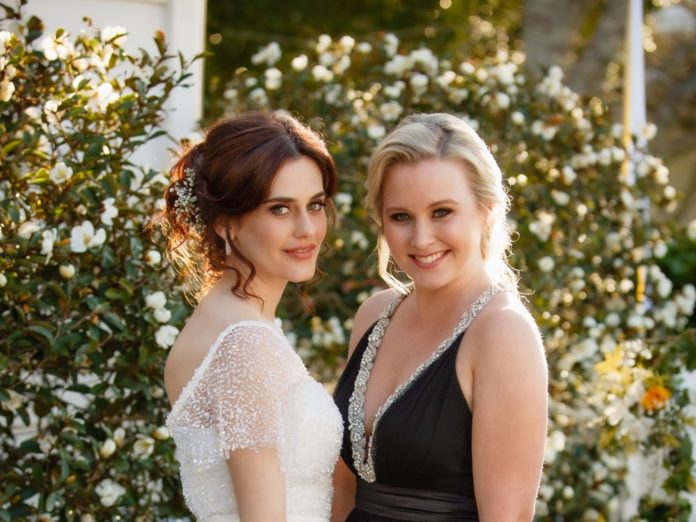 Our iconic soap Shortland Street has enjoyed some LGBT breakthroughs over the years, from its first same-sex kiss in 1994 (Dr Meredith Fleming and nurse Annie Flynn) and Jay Copeland and Maia Jeffries Civil Union in 2006. But they've never had a gay wedding… until now! Express chats with Jess Sayer, who's character Maeve Mullens, is set to say 'I do' to Nicole Miller (played by Sally Martin).
What do you most love about your character Maeve?
I love that she's human. She's flawed. She gets things wrong and learns from her mistakes. She's also a really good communicator and is incredibly direct. If she's feeling some kinda way about something, she'll just come out and say it. Also goes without saying, but I LOVE that she's a lesbian.
What have been the funniest moments you and Sally Martin have shared while playing the characters?
I adore Sally Freaking Martin. We have so much fun together. She is exactly on my level humour wise and we will often be laughing right up 'till they call 'action'. Our favourite thing to do is present each other with dust bunnies or random pieces of rubbish we've found around the studio and pretend they are our pets.
Have you enjoyed the evolution of Maeve and Nicole's relationship and what is it like to be part of this storyline?
I'm so proud to be part of this storyline. The way the writers have crafted the dynamic between Nicole and Maeve is brilliant. The characters really love and respect each other, and that only grows deeper episode by episode. It's a gift, to be given a relationship like that to play. And the content we have been able to explore – from portraying a same-sex family with children to the domestic violence between women storyline – it feels groundbreaking for our community. To see that represented on screen. This kind of storytelling is everything I could have ever wanted in a role.
Are you currently in a relationship?
Yes. We got together just after New Years, but have known each other for about eight years. She's pretty special.
What do you think is the key to a successful long-term relationship?
So many things, but at the base of it all – open and honest communication. I honestly think communication is everything. From there anything is possible.
Personally, what is your worst first date experience?
I actually can't think of anything that happened on a FIRST date. I fell off a wall trying to kiss someone I was dating once. Landed in the ocean. Wasn't even drunk.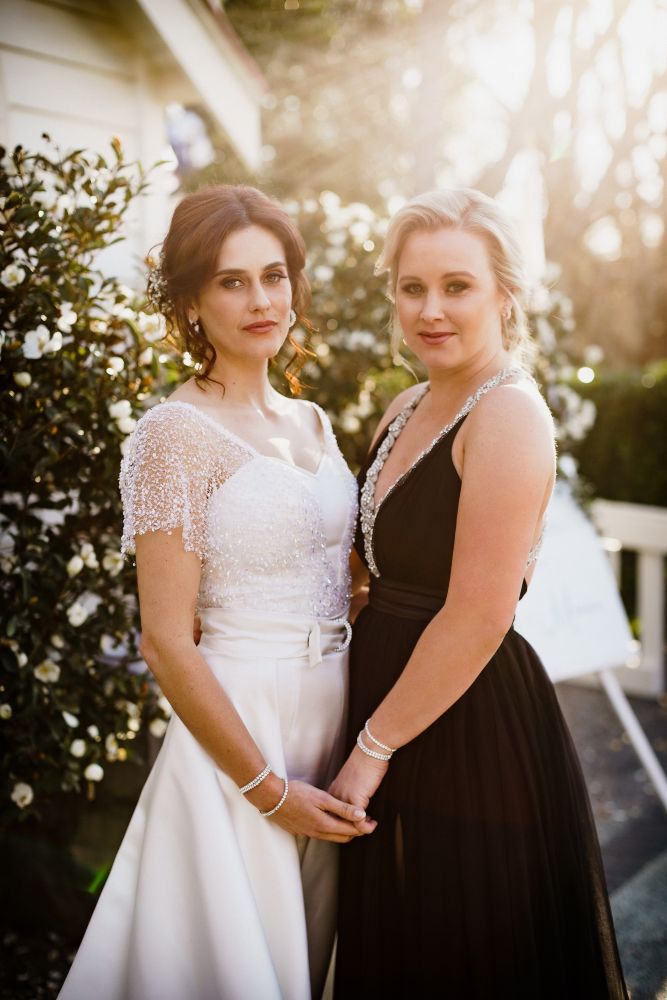 It looks like a beautiful day on set. What was it like filming the wedding scenes?
It was quite profound actually. I think it really hit us, the enormity of what we were doing. Shooting the first same-sex wedding. It was a pretty special day on set.
If you personally have a wedding day – how different will it look from this one?
I've never imagined myself getting married, so I've actually never given it any thought. But I suppose IF I did, there would probably be horses and real alcohol involved. And I don't think I'd be wearing white coz I'd absolutely spill stuff on it.
Where are Maeve and Nicole planning to go on honeymoon and if this was your wedding in real life where would you choose?
They are planning on a beach-side honeymoon! If it was my honeymoon, I think I'd want to go to Norway, stay in some kinda snow bubble hut thing, drink mulled wine and stare at the Northern Lights. And maybe there could be a spa pool attached to the bubble hut. That might be okay.
You spent five years of your childhood living in Brunei – how do you reconcile that same-sex marriage does not exist there, sex between two women is still punishable by caning and imprisonment, and sex between two men even worse?
I did, yeah. I just actually can't fathom it. I didn't know I was gay until I was about 23, and I left Brunei when I was 11. So, the rainbow world wasn't on my radar while I was there. But I can't imagine living in fear and having to hide who you are – having to hide who you love knowing that it was against the law. And, even though we have a way to go – let's fucking ban conversion therapy already – it reminds me how incredibly privileged we are in New Zealand.
To be telling stories like Nicole and Maeve's on Shortland Street. To get to play a role like that. I'll never take that privilege lightly.
Shortland Street is five nights a week on TV2 and TVNZ OnDemand.