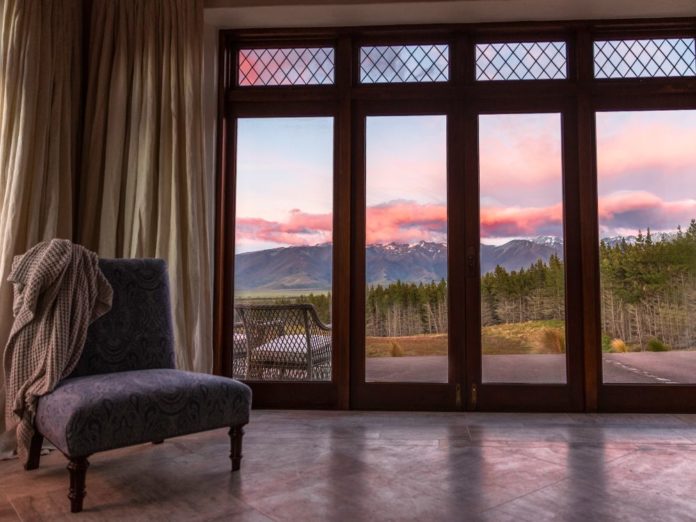 In the second of a two-part adventure, Oliver Hall heads back to Mackenzie Country on a search for the stars and nestled between the mountains and lakes enjoys the hospitality of Twizel.
It's been a full-on week at work and we can't wait to escape on the Friday afternoon. The drive is picturesque and we reward ourselves with a special treat at the end – a dip in the Omarama Hot Tubs which offer private fresh mountain water tubs, heated by a woodfire that overlook the Mackenzie countryside. Divine!
It means we are a late check-in at our next accommodation Matuka Lodge – a spacious luxury lodge that boasts some of the best Tripadvisor reviews of any accommodation in the country. And we suspect that comes down to our host Jo.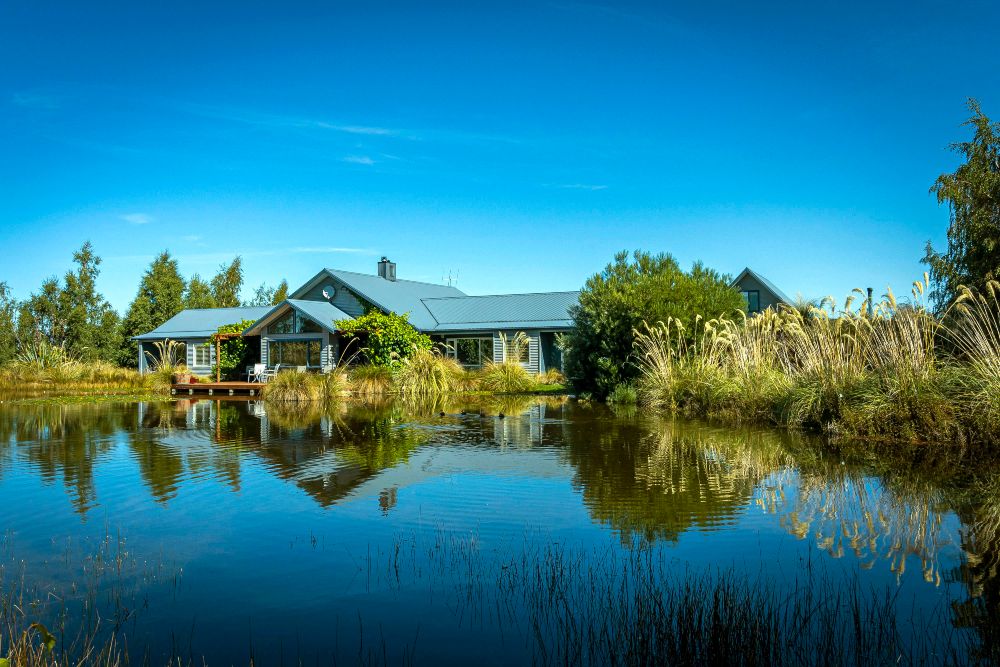 Despite our lateness Jo welcomes us like family and has an announcement to make, we are the night's only booking! "So this is all yours," she says as she shows us around the roomy communal lounge with walls lined with seriously gorgeous art pieces, each perfectly-placed and in keeping with the couches and furniture.
In addition, there's a tea and coffee corner with a huge selection of teas, moist fruit cake and delicate almond biscuits – both homemade by Jo. They're the perfect snacks to take to a comfy chair in the cosy tv room/library. But isn't it time we checked out our room?
In keeping with the rest of the lodge – it's gorgeous – with a separated dressing area where we can keep our cases out of sight. The attractive warm room boasts a plush king-size bed, luxurious bathroom with a spa bath, and a pond-side deck with mountain view, orchestrated by frog song. I could live there but before I get too comfy my partner wants to return to the lounge for more fruit cake by the wood burner.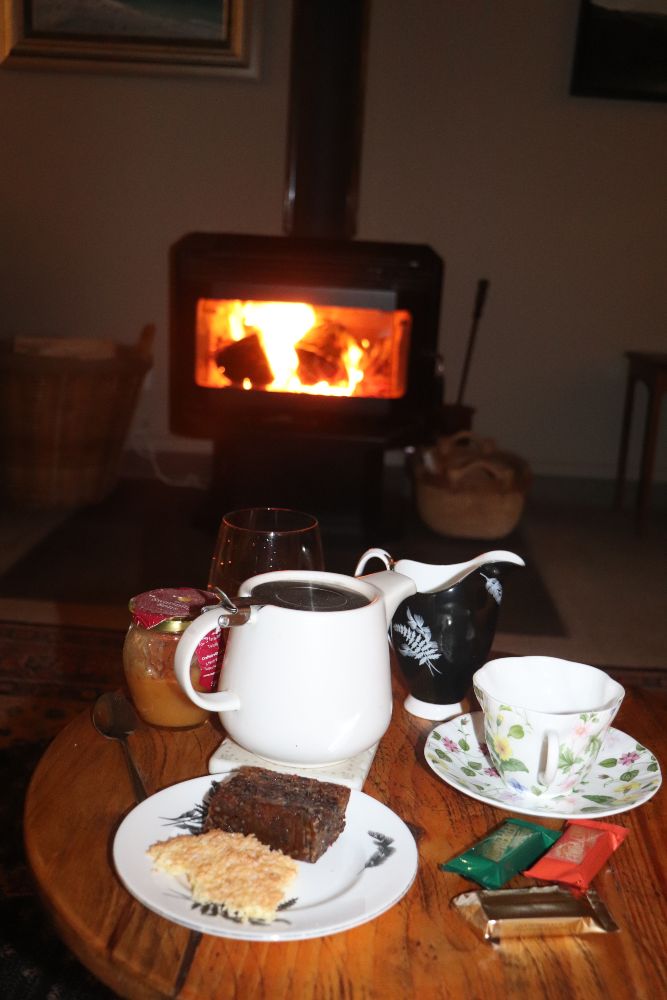 The lodge operates an honesty box policy on its wide selection of wines and spirits which are there for you to pour at will.
After a very comfortable night's sleep. Jo provides more banter over breakfast and recommends we take up a serene drive up to Lake Ohau and check out the Lodge which provides convenient accommodation for the Ohau Snow Fields and 'feels like a step back in time.'
It's not hard to see why Matuka Lodge is rated so highly on Tripadvisor. Jo really makes you feel so welcome and truly at home. Combine this with the beautiful, exceptionally clean rooms with idyllic views and delicious snacks and wine at every turn, and you could stay forever!
As we drive up to Lake Ohau, we realise Jo wasn't wrong! Lake Ohau Lodge has a lovely rustic old-fashioned feel, reminiscent of the resort in Dirty Dancing – not to mention stunning views of the lake. We go for a walk, have a beer and a cheese plate and play darts (the pool table was taken). It's a really pleasant afternoon and would be a great place to check out with friends during ski season.
For our last night and final accommodation, we drive to the Southern side of Lake Pukaki. Mt Cook Lakeside Retreat can't be seen from the road as it is surrounded by forest, giving it the feeling of being an exclusive hideaway. While Matuka Lodge made us feel like family, staying at Mt Cook Lakeside Retreat makes us feel like royalty.

We were excitedly greeted by Anna at the Retreat's main building Moraine Lodge, where we will return to dine that evening. Anna takes us over to our villa (one of three the property boasts) and from the moment we open the solid oak door, it's truly breath-taking.
We are faced with a large sitting room with a pristinely laid out dining table (where we will eat breakfast) beautiful lounge furniture and a huge open log fire. French doors lead out to a patio with spa bath overlooking Mt Cook. Turning right from the lounge past the compact kitchenette we head into a spacious, light and airy bedroom with ensuite wet-room shower. I can picture Harry and Meagan staying here!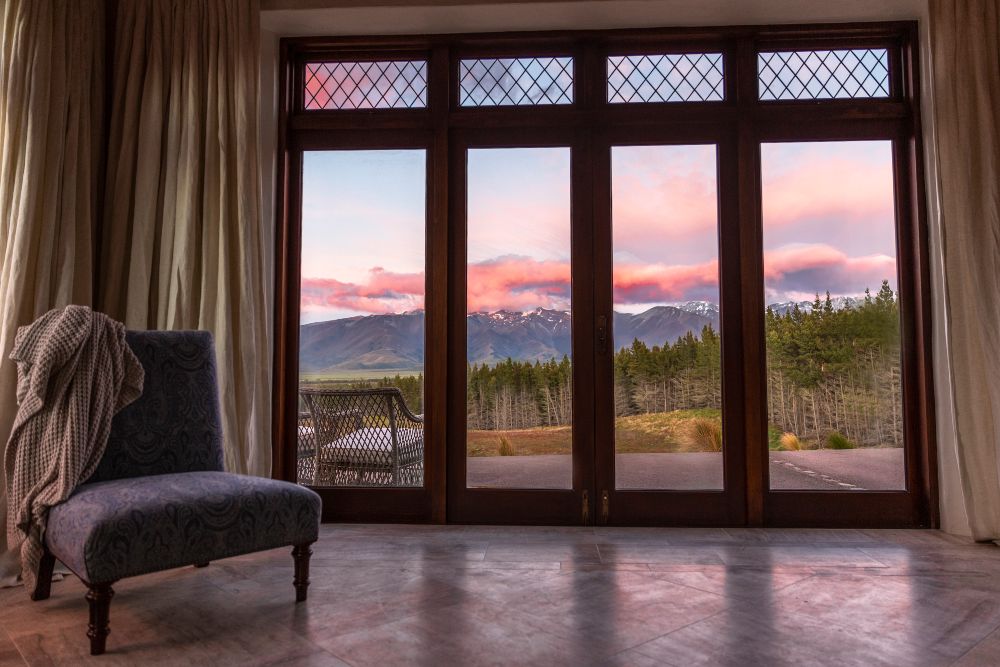 At Mt Cook Lakeside Retreat, luxury breakfast provisions are sitting in the fridge (think smoked salmon and avocado, chia pudding, granola and Greek yoghurt) and dinner is brought piping-hot to your villa or can be served in the dining room of the main building, Moraine Lodge.
On this particular night, Mt Cook Lakeside Retreat is holding a 'Taste of Italy' dinner as part of their Supper Club events calendar, which encourages Twizel locals to connect with the retreat. Having spent a few days getting to know the area we are intrigued to meet more locals and opt to join in the festivities at Moraine Lodge.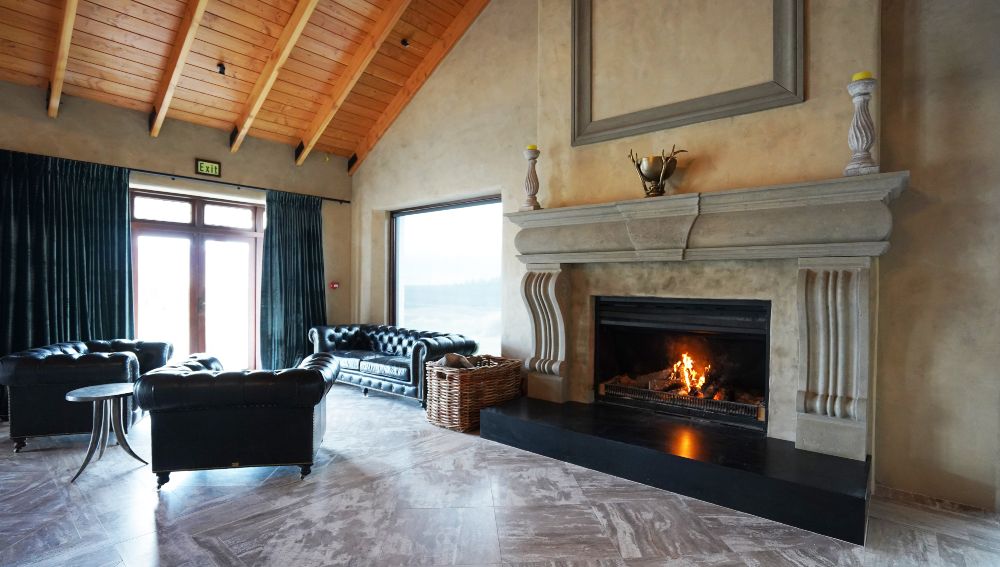 It turns out to be a great decision. The Italian food night is excellent and the Twizel locals are an intriguing bunch. As with so many small NZ towns, everybody knows each other. We meet the mother of the Skyscape owners and I am sitting next to a friend of Jo's from Matuka lodge.
Most of the couples we meet consist of kiwi husband who works agricultural, hydroelectricity or manufacturing, and a glamorous wife whom he met working overseas and the two have emigrated back to New Zealand.
Everyone is very nice enthusiastic about the retreat and the Twizel community, and there is a palpable excitement of the community centre's up and coming production of The Sound of Music, that almost everyone present at the dinner has some sort of role in.
Following dinner, we enjoy a boozy sit in the spa and then migrate to the fire (because there's nothing quite like an open wood fire) before calling it a night.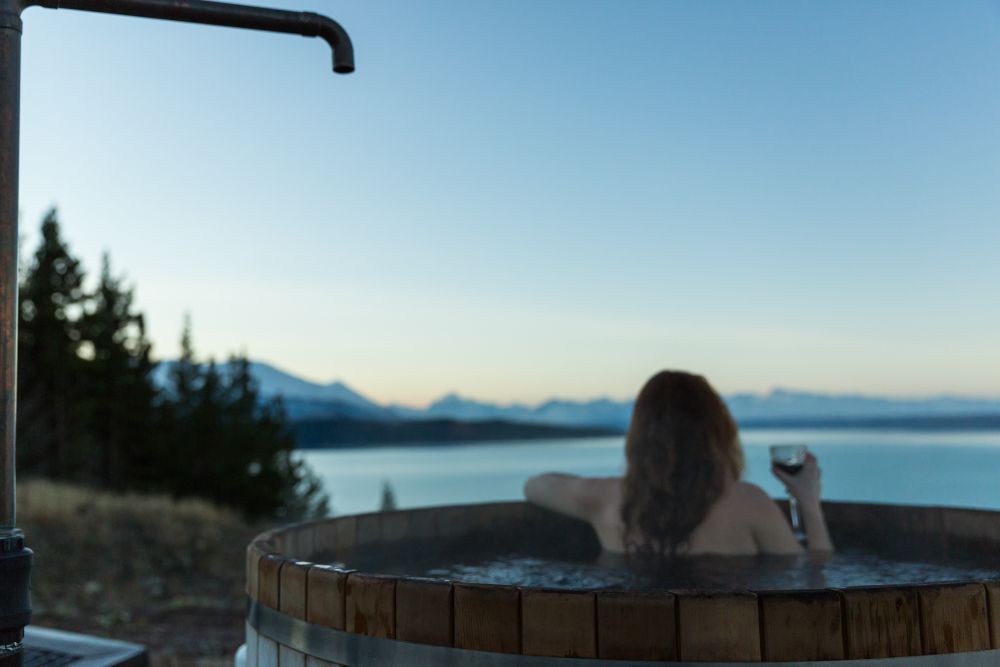 In the morning hosts Luke and Kaye give me a tour of the property including their romantic premium honeymoon villa 'Ashley Mackenzie' which has exclusive use of a gym and sauna as well as a large private lawn, which would make a beautiful wedding setting.
Elsewhere, the property boasts four and a half km of private forest walks, a tennis court and a seasonal curling court. Not to mention their onsite Pukaki Observatory and Wine Cellar that give Mt Cook Lakeside Retreat's star gazing a real point of difference. We did ours, with a French honey liquor in hand, standing on top of the observation deck while a state of the art telescope locked on to different stars and planets. Now that's a slice of South Island luxury.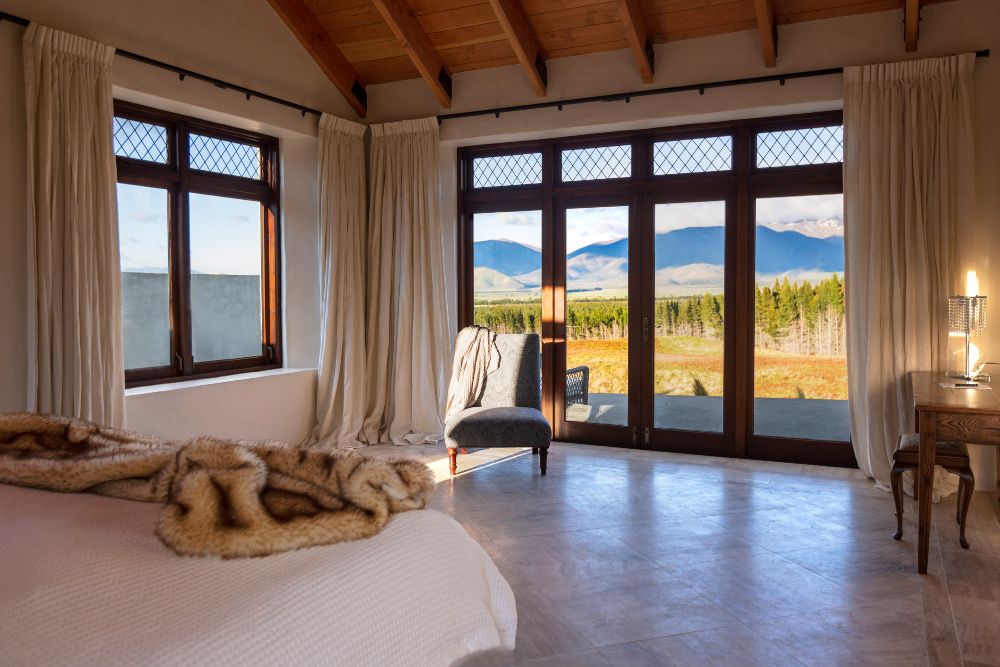 Mt Cook Lakeside Retreat was perfect for an occasion that requires opulence and the chance to meet genuine Twizel locals added a unique point of difference to our stay.
Mt Cook Lakeside Retreat would like to offer a free Star Gazing Experience at the Pukaki Observatory and Wine cellar (valued at $ 120 per person) for all Express readers who book a stay directly with the retreat:
"The Mt Cook Lakeside Retreat and onsite Pukaki Observatory is perfectly located to explore one of the darkest skies in the world. This is a stellar experience and is a unique opportunity to stargaze in the gold level Aoraki Mackenzie International Dark Sky Reserve with some amazing astrophotography opportunities.
"All you need to do is when you book online is add "Star Gazing Experience – EXPRESS" or email anna (anna@mtcookretreat.nz) to make a reservation."
For more information about Twizel and the Mackenzie District visit: mackenzienz.com