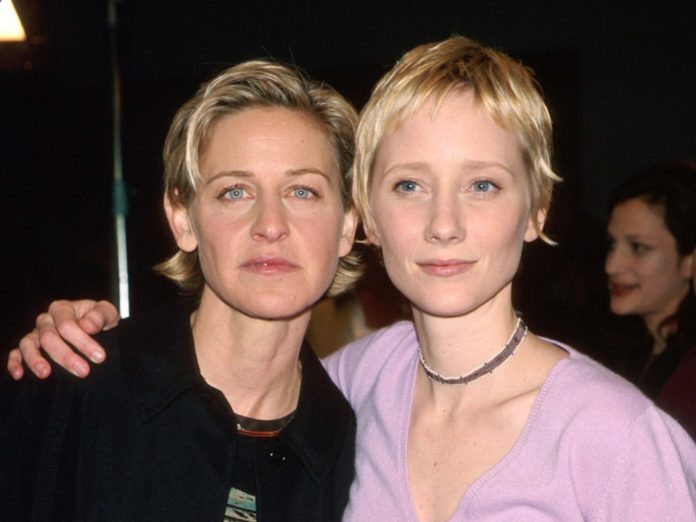 After dating Ellen DeGeneres between 1997 and 2000, Anne Heche has started opening up about her relationship with the star.
Actress, director, and screenwriter, Heche made the claims on a TikTok video posted on Wednesday the 28th of April 2022, where she reviewed some of her previous red carpet looks.
Showing a photo of herself wearing a flowing navy dress, alongside DeGeneres who wore a matching navy suit, Heche said: "Why do I look like a hippie? It's because Ellen didn't want me to dress sexy."
Heche continued giving her look a zero out of 10 and gave it a literal thumbs down, adding: "Bye, no."
51-year-old Heche, who went on to marry Canadian actor James Tupper, has in the past discussed issues in the relationship including back in the year 2018, when she claimed that 20th Century Fox decided to terminated her contract as a result of her public relationship with DeGeneres in the late '90s.
Speaking on the Irish Goodbye podcast in 2018, Heche explained that she met DeGeneres the same week that the then-sitcom star, DeGeneres came out in 1997.
Heche was in the middle of promoting her film Volcano and explained, "Ellen and I met on a Sunday night at the Vanity Fair party. Tuesday was her coming-out episode of the Ellen show. Wednesday was the press junket for Volcano. Thursday was the opening of Volcano."
"We went to the premiere, we were tapped on the shoulder, put into her limo in the third act and told that we couldn't have pictures of us taken at the press junket – and both she and I were fired that week," Heche added.