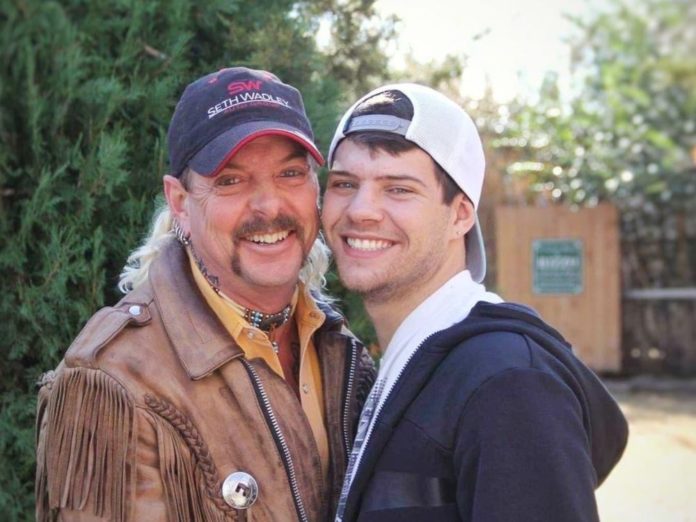 Dillon Passage shared his reasoning for ending the marriage on Instagram.
Currently serving a 22-year sentence for attempting to hire a hitman to kill his arch nemesis Carole Baskin and for violating several wildlife laws, things have gotten even worse for Joe Exotic.
Husband Dillion Passage has taken to Instagram to reveal he is divorcing the Tiger King star.
Passage cited the toll that Exotic's lengthy prison sentence has taken on their relationship and the fact they have now spend two and a half years apart.
Speaking of the divorce on Instagram, Exotic said "This wasn't an easy decision to make but Joe and I both understand that this situation isn't fair to either of us. It's something that neither of us were expecting but we are going to take it day by day.
"We are on good terms still and I hope it can stay that way. I will continue to have Joe in my life and do my best to support him while he undergoes further legal battles to better his situation."
Passage said the Instagram post would be the only public comment he would be making on the matter, taking a swipe at Exotic for being too quick to use social media to air grievances.
"I don't feel obligated to explain to the world what occurs in my personal life and, despite Joe taking to social media to air every grievance, I don't feel it's the healthiest way to handle private matters between two people," Passage said.
"I therefore don't intend to post any more on this subject."
Exotic was hoping to be released from prison with a pardon by former President Donald Trump earlier this year as he left office, while Trump was reportedly considering granting one, no such pardon was given.
The Tiger King star slammed the decision saying he was "too gay" for Trump to grant him an early release.