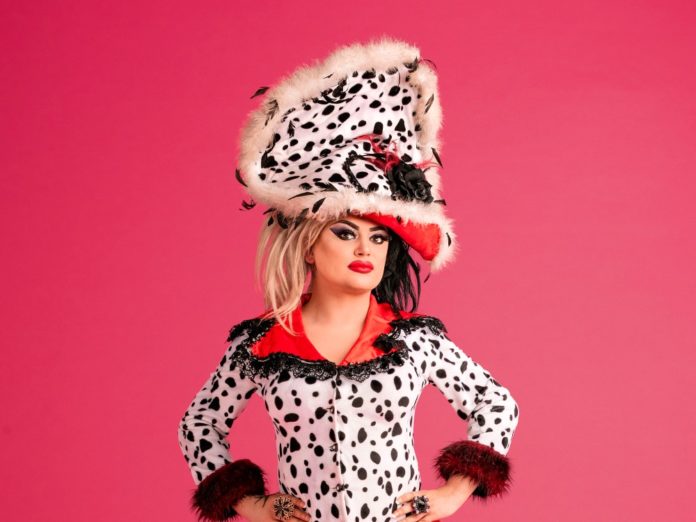 The drag queen says her mental health has suffered as a result.
RuPaul Drag Race UK contestant Baga Chipz says she is once again in need of her anti-depression medication following online abuse for tweeting condolences to Queen Elizabeth II on the passing of her husband the Duke of Edinburgh, Prince Philip who died Friday night (NZ time).
Baga Chipz's deleted the tweet so it is unclear what was written, however, a number of Twitter trolls hounded the break out star of RuPaul Drag Race UK season 1 following it.
Those sending abusive tweets to the RuPaul star were not happy she posted a message of condolence to the Queen, citing their disapproval of the late Prince Philip as the reason.
Responding to fierce criticism for her message of condolence, Baga Chipz tweeted, "All I do is be nice to people and try and make people happy and I'm always the one who gets hurt. I'm getting all these people who don't even follow me telling me to burn in hell with Philip and Thatcher. All I did was send my condolences to the Queen. Joe Biden just did the same."
Worryingly the backlash and vicious comments made about Baga Chipz online has had an impact on the drag queen's mental wellbeing.
Deleting her original message, the RuPaul Dragrace UK contestant then tweeted "Just when I need my depression medication. I run out. Time for a nap I think. I just want to apologise if I upset anyone for sending my condolences to the queen. I didn't mean to offend anyone. And I'm sending love to everyone."
Baga Chipz then took a break from the social media platform tweeting yesterday "I'm coming off twitter. I'll see you all on the road or on the telly. I'm not in the right mental state for this type of abuse, it brings back my school days. I love you all. And be kind to one another. Lots of love."
The drag superstar has since returned online and says she was overwhelmed with messages of support from fans. Writing yesterday on Twitter Baga Chipz said "I've had a 12-hour power sleep and feel much better. Thank you for all your lovely messages. I don't usually listen to trolls. Yesterday wasn't a good day for personal reasons. I love you all so much. And will continue to try and cheer people up whilst being kind. Bloody love ya!"
Baga says she has been helped with the support of her fans and will not be afraid to block trolls in the future.