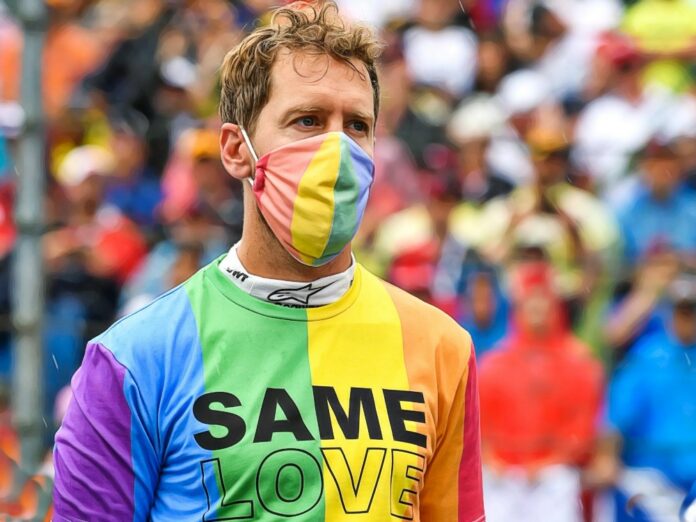 German Formula One driver Sebastian Vettel, who wore a Pride shirt during the national anthem at the Hungarian Grand Prix, has been reprimanded for the political display against the nation's anti-LGBTQ+ policies.
Taking place on the 1st of August in Budapest, Hungary, Aston Martin driver, Vettel was wearing a rainbow top that read "same love", while three other drivers such as Mercedes' Valtteri Bottas, Ferrari's Carlos Sainz and Vettel's teammate Lance Stroll wore a t-shirt that declared "We race as one."
However, it is reported that the drivers had been required to wear just their racing suits during the national anthem at the Hungarian Grand Prix, and according to race director Michael Masi, each driver was given non-driving reprimands for their "failure to follow the instructions of the relevant officials for the safe and orderly conduct of the event."
The shirts had all been worn to showcase condemnation of Hungary's new laws that ban the portrayal of LGBTQ+ people in media, school materials and advertisements, something both Sebastian Vettel and Lewis Hamilton have been publically critical of.
According to AutoSport, Vettel has since spoken out about the reprimand saying, "I'm happy if they disqualify me. They can do whatever they want to me, I don't care. I would do it again."
Vettel is also reported to have been wearing trainers with rainbow Pride colours when he arrived in Hungary, saying that his shoes were a statement against the new Hungarian law and the nations right-wing, homophobic leader Viktor Orbán.
"I just think we've had so many opportunities to learn in the past, and I can't understand why you are struggling to see that everybody should be free to do what they like, love who they like. It's along the lines of live and let live."
"So it's obviously not for us to make the law, and that's not our role. But I think just to express the support for those who are affected by it."
Lewis Hamilton on Instagram 👏🏳️‍🌈 #HungarianGP pic.twitter.com/bq7WKLGwlG

— WTF1 (@wtf1official) July 29, 2021
Lewis Hamilton has also spoken out against the new Hungarian law via social media, posting "Ahead of the Grand Prix this weekend, I want to share my support for those affected by the government's anti-LGBTQ+ law."
"It is unacceptable, cowardly and misguiding for those in power suggest such a law. Everyone deserves to have the freedom to be themselves, no matter who they love or how they identify."