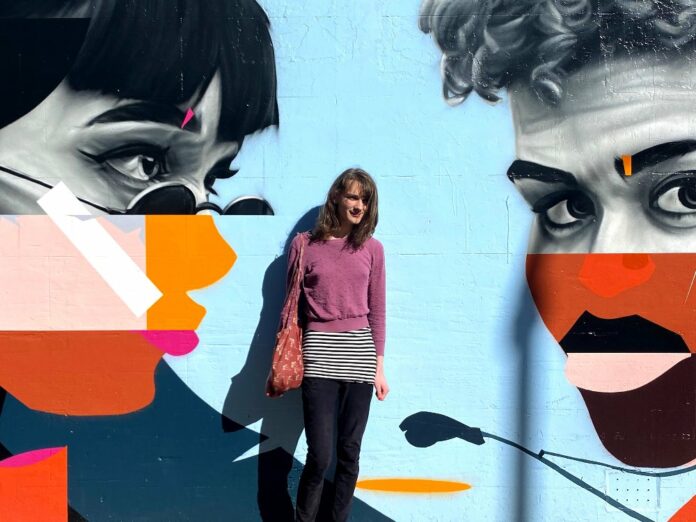 Ahead of their next trans-rights rally on Sunday, Richard Tait meets Elle Kingsbury, the queer activist who organised the recent rally outside the Michael Fowler Centre, which saw over 1000 people unite to show their support for trans rights.
Elle was born in Auckland but grew up in the small town of Onewhero, Waikato. Homeschooled until her teens, she remembers a close family that enjoyed walking in the countryside and a peaceful rural lifestyle. Homeschooling meant she benefited from one-on-one learning from her parents but lacked social interaction with other kids. So as a teenager, she decided that she needed to broaden her experience and attend Onewhero Area School, a big change from the safety of home.
After school Ell decided to spread her wings futher and study in Wellington. She also began her transition. She admits that being a young, innocent from rural New Zealand that she was not mentally prepared for the upheaval and suffered a breakdown.
She was lucky that her family supported her through this time and the network of people she met in Wellington gave her the strength to continue her transition and personal development.
There is a strong transgender community in Wellington, with groups like Gender Minorities Aotearoa, Inside Out and Transform providing support. But Elle tells me these groups are not sufficiently funded and there needs to be more support for transitioning people, especially youth, who may not have the life skills to deal with the mental health issues that may occur.
Nowadays Elle feels great! As part of her recovery process, she discovered social networks of like-minded people that were aware of the political conversations and issues happening in the Queer community and wider country. Elle tells me she found it liberating compared to the more conservative attitudes of the people who surrounded her rural upbringing. "These people were looking to make the world a better place," she says adding, that the left-wing groups provided welcoming spaces for a young transitioning person.
Elle's political activism became more important to her. Recently the organisation, Speak Up For Women, held meetings at various locations around NZ. They had booked Wellington's Michael Fowler Centre to the dismay of many trans rights supporters who are concerned by the group's opposition to the Births, Deaths, Marriages and Relationship Registration (BDMRR) amendment which would allow people to self identify their gender on official documents.
While Wellington City Council deemed they legally must allow the group's meeting to go ahead, they lit the building in the colours of the trans flag to still show their support to the trans community and their allies.
Queer Endurance / Defiance (QED), a Wellington queer activist group that Elle is a member of, decided to organise a rally at the same time of the meeting. They expected to get some support from the wider community but Elle tells us it was beyond her wildest hopes when over 1000 people turned up.
As well as the BDMRR, Queer Endurance / Defiance are also passionate about the Conversion Practices Prohibition Legislation Bill (which recently passed its first reading in parliament), and the changes to the Human Rights act around hate speech; particularly Proposal Six, which clarifies that trans, gender-diverse and intersex people are protected from discrimination.
The group intends to hold discussion meetings and make submissions to help ensure community voices are heard. They also intend to lobby the Ministry of Health for additional support and funding for the trans community around transitioning.
Elle hopes all of the LGBTQ+ community will come together to support this work. "While we come from different parts of the community and some of us from different ends of the political spectrum, we must protect our rights together. There are too many places in the world where these rights are being eroded, and only as a united community together can we fight this and protect our place in the world!"
QED's next Counter-protest: Suffrage Day For All Women will take place this Sunday (19 September) at 11.30am on Lower Cuba Street, Wellington.