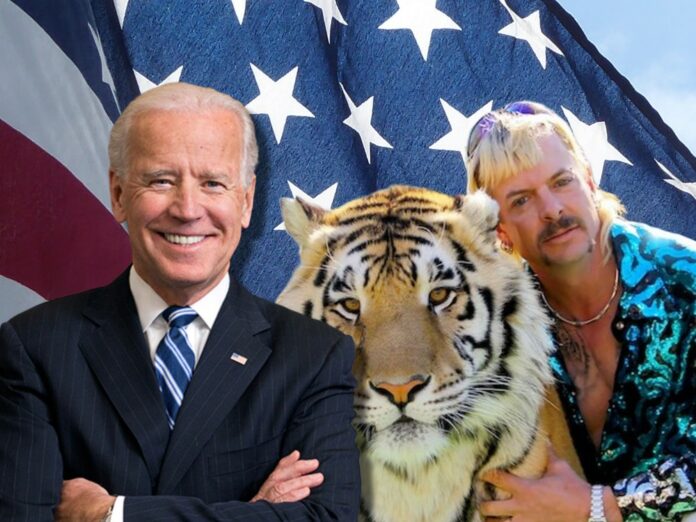 In yet another attempt to receive a presidential pardon, Tiger King star Joe Exotic has reportedly concluded that Biden may face the same conquests as former president Trump who coincidentally lost the 2020 election after not pardoning the 'Tiger King'.
Exotic (real name Joseph Maldonado-Passage) is currently serving a 17-year prison sentence for a range of animal abuse charges and plotting to murder his long-time arch-nemesis, Carole Baskin.
Following his conviction, Exotic and his team extensively campaigned for Donald Trump to pardon the 'Tiger King'.
However, Exotic was not one of Tump's 143 pardons, resulting in Exotic concluding that he was "too innocent and too gay" to receive a pardon from Trump.
Earlier this year, it was reported that Exotic had now moved to start pressuring Joe Biden for a presidential pardon, sending the Bidon administration multiple messages from prison, apparently to no avail.
In response to Biden's lack of interest in pardoning the Exotic, the 'Tiger King' has now suggested that Biden could lose the will of the American people and ultimately lose votes if he refuses to set him free.
"President Trump was a fool not to pardon me," Exotic says in a handwritten letter to The New York Post.
"Before the election, millions of people were hoping for it as they know I'm innocent, most of this is in Tiger King 2, and it will be the same for President Biden, the world will know the truth and him and VP Harris ran on justice and prison reform."
"It would be in the interest of American justice for president Biden to pardon me before the holidays and charge those with perjury and other suitable charges, or the injustice is really going to cost votes in 2022 as the people wonder if this could happen to them under his watch."
Biden is yet to issue any pardons during his presidency so far and does not appear to have responded to Exotic. The next U.S presidential election will take place in 2024.