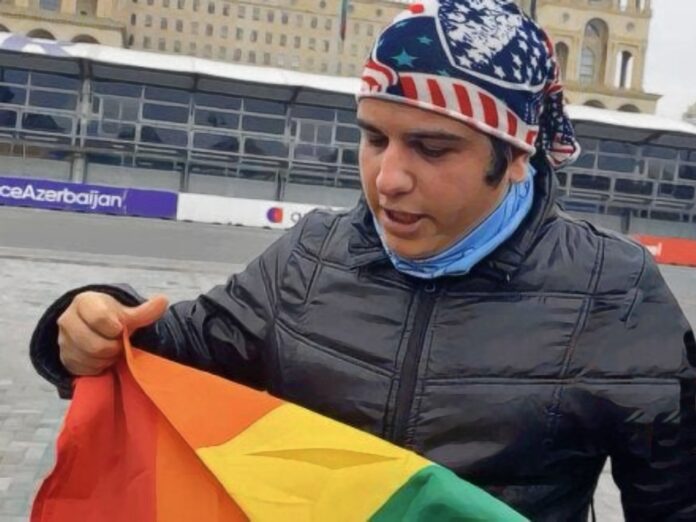 LGBTQ+ activist and journalist Avaz Hafizli has been brutally murdered and mutilated by his cousin in the nation of Azerbaijan.
Hafizli – a journalist for the news channel Kanal 13, was well known for his LGBTQ+ activism in Azerbaijan.
Calling for his government to move forward in LGBTQ+ protections, promoting trans rights, and pushing for more action to be taken against homophobia and hate crimes, Hafizli is even reported to have chained himself to the gate of the Prosecutor General's Office during one protest.
According to local media reports, the Prosecutor General's Office and the Interior Ministry have issued a joint statement confirming Hafizli's death.
The statement, which confirmed his murder on Tuesday the 22nd of February at around 4 pm, highlights the brutal nature of the hate-filled murder noting that he was found beheaded with his genitals cut off.
Activists add that his body was wrapped in a rug and transported to the morgue in a "garbage truck," as police didn't want to touch the body.
The man who has claimed responsibility for the deadly and disgusting hate crime, Amrulla Gulaliyev, was in fact, Hafizli's cousin.
Gulaliyev, who has admitted to killing Hafizli, has since been detained while authorities investigate; however, Hafizli's friends and local activists believe that the authorities also need to take some responsibility for his death.
Speaking with PinkNews, one friend – an activist who had worked with Hafizli in Azerbaijan before recently moving to the United Kingdom, explained that as Hafizli was openly protesting for LGBTQ+ rights, Hafizli was also the victim of "police violence."
"After his open protests, his family and relatives started threatening him," she continued. "He knew that there is a danger, yet he kept going."
"Yesterday, he was killed by his cousin, brutally, his head and penis were cut off."
Hafizli's friend added that colleagues and friends are also worried that, like in previous cases, Hafizli's murder will not be thoroughly investigated fairly with the perpetrator getting let off and the truth being covered up.
"The whole queer community is in a panic now because this violence keeps being justified in the media and even praised by some politicians."
Fellow LGBTQ+ activist from Azerbaijan, Lili Nazarov, said in a statement that Hafizli "did his best for LGBT+ rights" and added that in 2020 he helped to organise the funeral of a transgender sex worker whose family refused to collect her body from the morgue after she was stabbed 11 times.