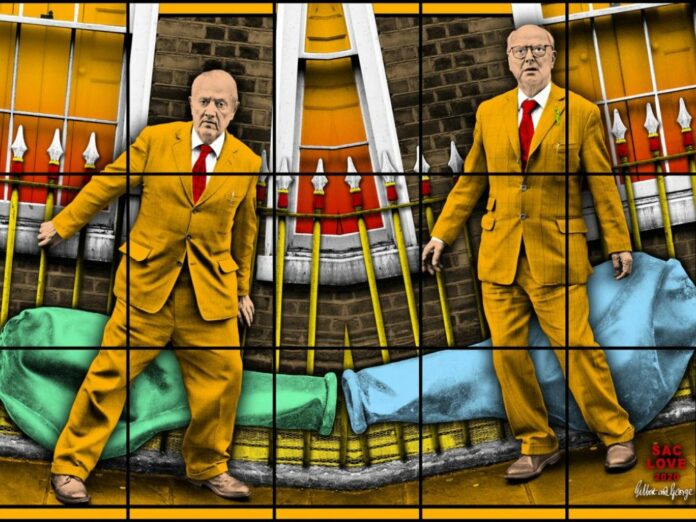 Partners in life and in art, British artists Gilbert & George will be exhibiting for the first time in Aotearoa with Gilbert & George: The Tāmaki Makaurau Auckland Exhibition opening at Auckland Art Gallery Toi o Tāmaki this July.
The once queer art outcasts have become icons of British contemporary art over six decades of making art together. The new exhibition at Auckland Art Gallery promises to bring together existing work direct from Gilbert & George's personal collection along with new work, in a survey of their joint career.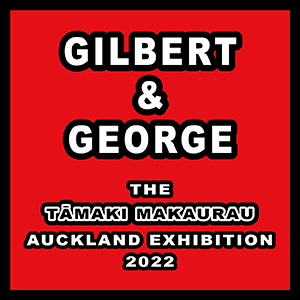 Since meeting at art school in 1967 – a meeting they describe as "love at first sight" – Gilbert & George have functioned as a single artist. Emerging from an era in Art that was dominated by Pop Art and Minimalism, they developed their own unique vision and voice. They are at once irreverent and polite, rebellious and regimented, and openly conservative yet thoroughly anti-establishment. By consciously expanding the definition of "what is art", the art they make is impossible to separate from the artist.
Gilbert & George describe themselves as "living sculptures" and that everything they do is art. It is with this approach that they create art that is firmly anti-elitist – something they term "Art for All". And, with life and art so intertwined, more often than not, they create using their own bodies and self-images – nothing is too personal and their own lives are always at the core of their work.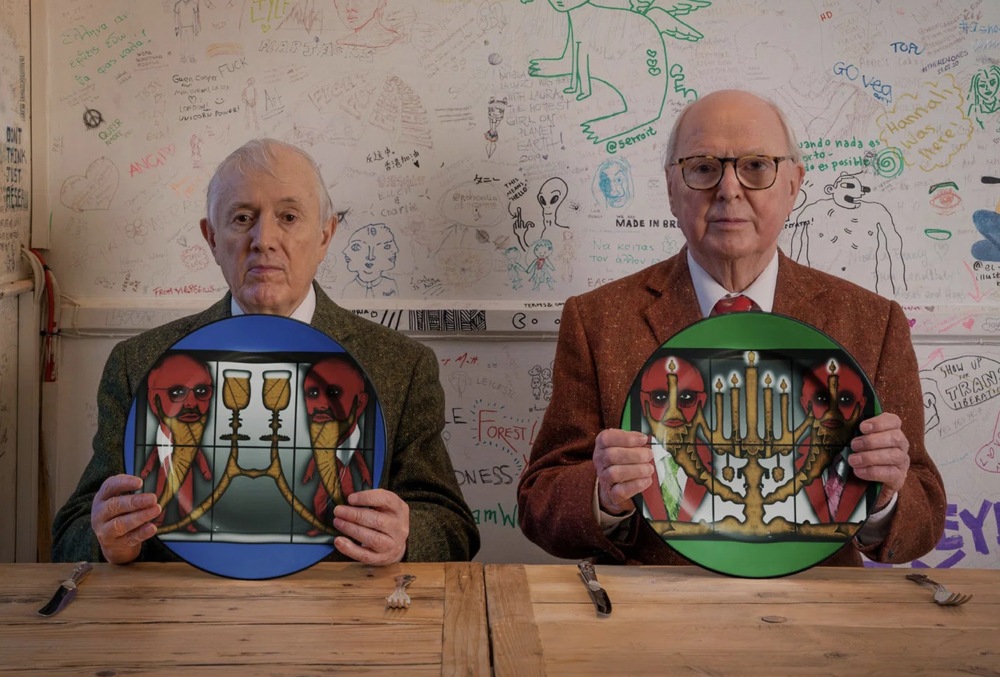 Early performance art would establish the pairs' distinctively formal appearance and manner – always dressed in impeccable matching tweed suits and with an air of classic British charm. Their façade, however, is at odds with radical work that is often intentionally controversial. The body of work they are perhaps best known for is their "pictures" – extremely large, brash photo-based artworks that combine graphic design style with bright garish colours, patterns and text.
These images can be confronting to view with the bold visuals bringing in-your-face, no holds barred messages that are at times cheeky and whimsical and other times crude and obscene. Nothing is off-limits and subjects include death, sex, money, race and religion.
"Our pictures deal with the great universals," say Gilbert & George.
The paradoxes they present as life and art intermesh are part of what makes Gilbert & George so fascinating. They are iconoclasts who refuse to accept that anything is sacred. It is with this approach that they reflect on and raise questions about modern life, culture and social issues. While you might not agree with what is being presented, you can't help but look and absorb and reflect on your own belief systems.
As art world agitators, Gilbert & George have enjoyed decades of critical acclaim, been called the "Godfathers" of British contemporary art and are now international art icons. Their exhibitions are known to be immersive and loud and with Gilbert & George: The Tāmaki Makaurau Auckland Exhibition being their first exhibition in Aotearoa, it will be exciting to see what it brings – controversial or otherwise!
For more information on the upcoming arrival of Gilbert & George head to aucklandartgallery.com