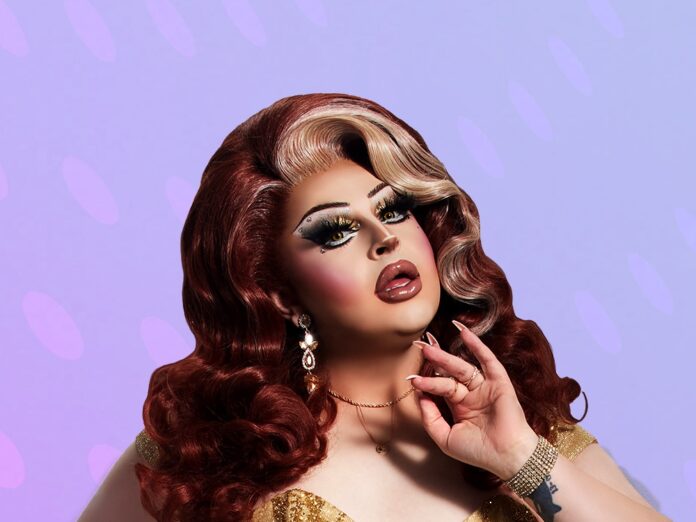 Hailing from all over New Zealand and Australia, 10 queens handpicked by RuPaul herself will compete in Season 2 of Drag Race Down Under. Ahead of the premiere on TVNZ+ at 6pm tonight, we meet Western Australia's Hannah Conda!
Congratulations on being a Ru-girl! How does it feel to be able to share this exciting news now?
Thank you so much!! It is so liberating and exciting to be free of all of the secrecy and I can finally say that it wasn't really, really long covid haha.
Where did you grow up and how was that town for you growing up in?
I grew up in a country town called York in Western Australia. It was such a small town and in the 90s it meant that we were encouraged to go outside, play and make memories. I look back on it fondly, I think it helped me to develop my imagination and an ability to create stories as our rotation of games was always shops, schools, or witches. The latter I always modelled my character off, of Bette Midler's 'Winifred' from Hocus Pocus. So, all those skills have really come in handy for drag!
What was your reaction when you found out you had secured a spot on the second season of RuPaul's Drag Race Down Under?
I was getting ready for a Christmas show down in Sydney Harbour when I got the call. I was with a bunch of my drag sisters and was bursting with excitement. I had to try so hard to keep my composure and not give it away. I think the Adrenalin of it really came out in my performance, Sydney had not had their bells jingled that hard before! Hahaha!
Why did it mean so much to you to secure that spot?
I've been doing drag for 12 years now and I think for most artists doing a show like Drag Race is defiantly on the vision board. To be chosen for this season just felt right. I very much believe that things happen when they are meant to and we are guided to where we need to be, so being asked I felt so honoured. I know that being on the show elevates us to a higher level in our industry and it's my hope that I can use that place to bring our community closer together, heal some of the division and do what I can to help the wider world understand that the LGBTQIA+ community is here and hopefully by us sharing stories people can come to relate to us on a human level. We still have such a long way to go in the fight for equality and safety for our community, that if I can in any way help elevate us all, that is what I'll do. I also just love to make people smile, laugh and have a good time. If I can bring joy and magic into the hearts of anyone, I'll be a happy lady of the lash!
Before entering the show what type of challenges did you think you would succeed at, and which ones were you dreading?
I am so excited to give Snatch Game ago as I love creating a character. A girl group challenge is right up my street. But in true Drag Race contestant style, I will be praying for a miracle in a sewing challenge haha!
How do you feel this season will be different to last?
I feel this season all the contestants are so filled with heart, passion and personality. We all came in as open books. Nothing was left off the table to discuss and talk about, so hopefully, that comes across to really give the fans a fuller fleshed-out look at what drag is Down Under. I think there will be a lot of heart and even more laughs. I kept getting separated from the other girls for making them laugh. So, I think that's a good sign haha!
What are your plans after the season screens?
After the season I just hope to continue spreading love, magic, and good times across the world. I hope to do some music and flesh out a one-woman show that I have been banging on about for the last five years but have never made moves on. So now is the time!! I'm so excited for everyone to see these beautiful artists in all their glory and I can't wait to be with them as we take over the world!