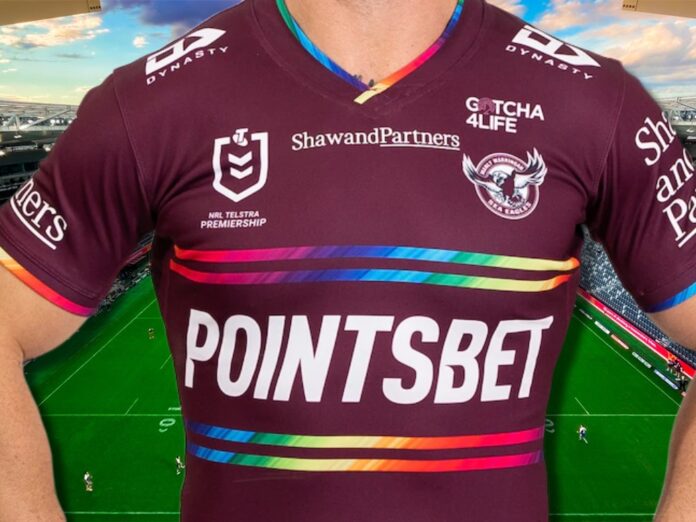 With seven players boycotting the game, the Manly Sea Eagles suffered a disappointing loss to the Sydney Roosters, but fans showed overwhelming support for the LGBTQ community, the 'Everyone In League' shirts sold out in just 30 minutes.
Last night was a busy one for staff on Manly's merchandise stand at Sydney's 4 Pines Park stadium, with both men's and women's sizes of the 'Everyone In League' jerseys selling out in minutes.
Putting it into perspective one merchandise seller told media it was rare they items ever sell out.
Spectators showed further support displaying rainbow flags in the stands.
The game follows a tumultuous week after players: Josh Aloiai, Josh Schuster, Haumole Olakau'atu, Jason Saab, Christian Tuipulotu, Tolu Koula, and Toafofoa Sipley all refused to play if it meant wearing the new jersey featuring a rainbow stripe, to show LGBTQ inclusiveness in rugby league.
The issue highlighted a lack of consultation with the team about the new kit which was launched on Monday.
"I think they were somewhat frustrated that it went as far as it did without consultation, and we respect that," Manly owner Scott Penn told Australia's 9News.
Manly is the first NRL club to release a pride jersey, and coach Des Hasler has apologised on behalf of the club for the 'poor' execution in unveiling of the jersey as part of an inclusivity initiative.
"The jersey intent was to support the advocacy and human rights pertaining to gender, race culture, ability and LGBTQ rights. Sadly, the execution of what was intended to be an extremely important initiative was poor," Hasler said in a statement.
"There was little consultation or collaboration with key stakeholders, both inside and outside the club. Sadly, this poor management … has caused significant confusion, discomfort and pain for many people. In particular, those groups whose human rights we were, in fact, attempting to support."
On social media, however, anger has been aimed at the boycotting players, who have been labelled hypocrites for accepting gambling and alcohol sponsorships but refusing to support LGBTQ inclusiveness.
"You want to stand up for your religious beliefs? Fine. Don't run out in your gambling-sponsored jersey at your beer-sponsored stadium. Don't pick and choose what's right and wrong when it suits, taking moral stands on when it doesn't affect your lucrative NRL contract," scoffed NRL great Corey Paker to Fox Sports.
Our Deputy Prime Minister Grant Robinson, has called the player's response 'disapointing,' stating that in New Zealand, "we worked really hard to try to make sure that what we're doing in the sport area is inclusive, that makes sure that we support individuals and sporting organisations to provide that environment".