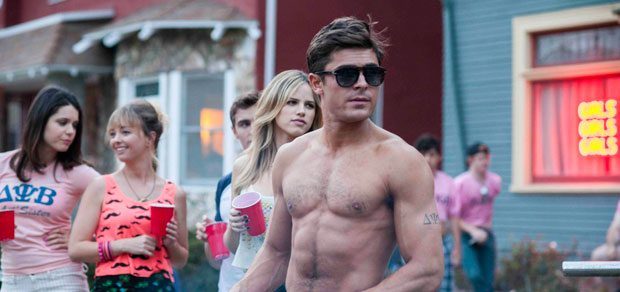 Could this be the hottest shirtless movie moment of 2014 so far? Gorgeous Zac is pictured here grilling his meat in the new comedy Bad Neighbours, which is topping box office charts worldwide!
Part of the new direction for the former teeny-bopper star has taken, raunchy comedy Bad Neighbours is crammed full of phallic humour, from a duel with dildos, to co-star Seth Rogan likening Efron's arms to "two giants veiny dicks."
At one point Efron's character Teddy gets into a fight with his best-friend Pete played by James Franco's little brother Dave. The friends grab each others junk and simply hold on, until Dave pulls the ultimate mind trick and gives himself a spontaneous erection to make Efron let go.
How far American comedy has come! Bad Neighbours is showing at cinemas across the country now.
Article | Oliver Hall