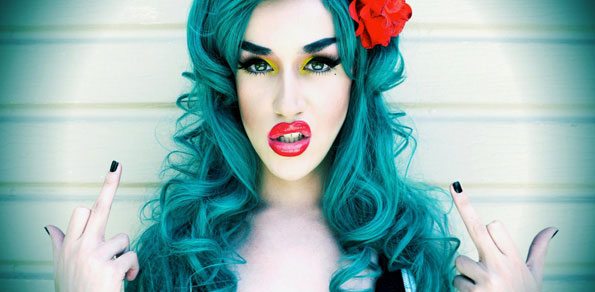 The "pop rock mermaid" and self proclaimed "polish remover" shook things up on Season 6 of Ru Paul's drag race, and now Adore Delano is bringing her unique style of drag, art and music to New Zealand shores early next month.
Danny Noreiga, Season 7 American Idol Contestant, now better known as Adore Delano, made it clear in the final weeks of the drag competition that her eyes were set not just on the title, but rather on "making it mainstream".
Adore has no doubt started living out her musical dreams. "Til Death do us party", released June 3rd, made drag race history when the album sold over 5,000 copies within it's first week of release and peaked at #11 on the itunes album chart, beating out international acts such as Lana Del Rey and Sam Smith.
Making it clear that underneath the punk glam diva attitude of Adore, underneath is a man determined to make his dreams come true and inspire others in the making.
"I want people to know that you can follow your dreams and have a party while doing it." Catch Adore Delano at "The Hunty Party" at Legend Bar on Sunday the 20th of July. Tickets available through "In the Dark".
Article | Aj Major