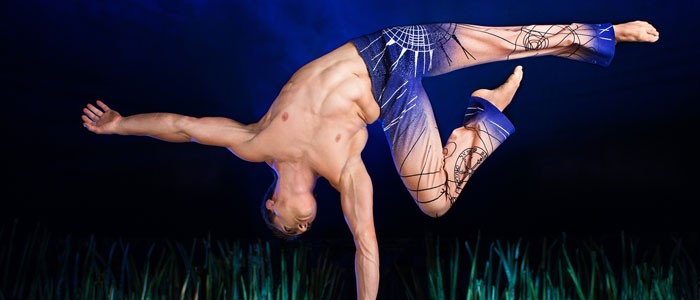 Cirque Du Soleil have spent the last twenty years revolutionising what we can expect from stage shows, influencing the likes of Madonna, Britney Spears, Celine Dion and Pink along the way. 
Their new show Totem comes to Auckland this month. It is currently one of 19 shows Cirque has simultaneously performing around the world. It is hard to believe that the company which now employs over 4000 people worldwide was formed by 20 unemployed street performers in Quebec in 1984. Cirque's brand of contemporary circus performance went on to eradicate traditional circuses that used exotic animals. Combining highly-technical acrobatics with lavish costumes and make-up, performed against haunting live musical scores; the groups popularity spread throughout the US. In 1998 they debuted their first Las Vegas residence show O.
Housed in a custom built theatre at the Bellagio hotel, the show proved so popular Cirque went on to take over the Vegas strip with eight different shows now being performed every night. The critically acclaimed Totem proved that Cirque is still as innovative as ever when it won the award for Outstanding Unique Theatrical Experience at the Drama Desk Awards in New York in 2013. The show examines man's evolution from amphibious beings crawling out of the sea to cell-phone-armed suit-wearers. Cirque's storylines have a signature abstract style that give their shows a dreamlike feel allowing audience members to interpret them very differently. Totem features some of the largest set pieces to ever feature in Cirque's touring shows. These will be put to good use as platforms to launch performers to death defying heights. A must see!
 Article | gayexpress
Totem will be performed under the big top in Alexandra Park, Auckland from Friday 22 August till Sunday 28 September. For tickets visit www.cirquedusoleil.com