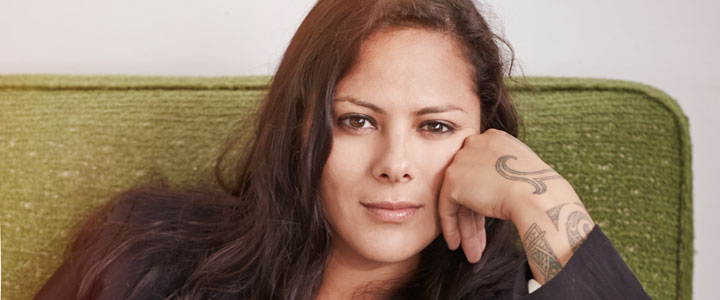 Anika Moa looks set to become Gay Ski Week's favourite Snow Queen, when she plays an exclusive gig at Queenstown's intimate Italian Restaurant Sasso on Tuesday 2 September as part of the festivities. Oliver Hall caught up with express' favourite kiwi crooner to find out more.
What can we expect from your set at Sasso as part of the Gay Ski Week celebrations?
My set will be full of laughter and lots of great story telling! I play lots of old songs, a few new ones and some good old covers!
Like what?
I have a few gems up my sleeve! Taking requests too if anyone wants to hear their favourite song. A bit like a traveling karaoke machine I am.
I hear you like getting the audience involved?
I like to interact with the audience and bring people up to the stage to dance, sing and basically take the piss out of them! It's always fun and never the same show twice!
What are you listening to and loving at the moment?
I'm loving a lot of new great music at the moment. Artist like Banks, SOHN, Lana Del Ray, Angus and Julia Stone, Jessie Ware and Future islands. There are some fantastic songs coming out on the net at the moment.
Do you ski? Or snowboard? Are you any good?
I used to snowboard a lot, but I had knee surgery and never went back to the snow. It makes me sad but it's okay. I just have to drink whiskey while other people snowboard and ski. (Laughs)
Is motherhood what you expected? What has surprised you about it?
Motherhood is all types of good, hard, fun, brilliant, lovely, naughty and so much more. It's cool. I'm cool.
Do you plan to attend any of the other Gay Ski Week parties/activities?
I would love to attend some other parties so am trying to get down early for the celebrations. I can't wait!
Why should express readers attend Gay Ski Week?
It's in the best part of the country. It's a chance to take a break and reflect, spend some time on the mountains or hit the bars and of course to come see me sing my pretty little heart out!


Anika's Top NZ Artists to Check Out:
Aldous Harding
Marlon Williams
She's So Rad
Benny Tipene
 Article | Oliver Hall
Anika Moa will play will play Sasso, 14 Church St, Queenstown on Tuesday 2 September, as part of the Gay Ski Week celebrations. Tickets and more information from www.gayskiweekqt.com