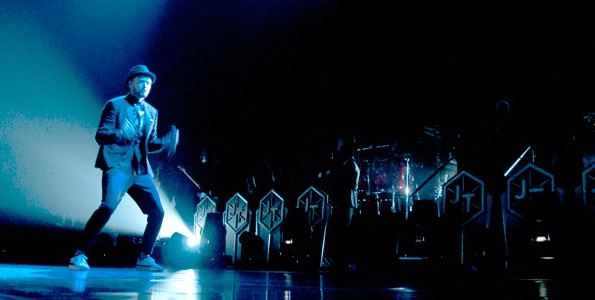 It's been seven years since Justin Timberlake brought his FutureSex/LoveSounds tour to NZ. Last night he returned for a three-show residency at the Vector Arena with his World Tour.
Timberlake's FutureSex/LoveSounds show was always going to be a hard one to top. One of the first pop artists to bring his full staging to the Vector – Timberlake wowed audiences with his revolving stage and party-starting dance moves at a time when he was cranking out number one singles like SexyBack and My Love. The JT World Tour however managed flawlessly to top it. Boasting a meatier and more varied set-list, Sunday night's crowd lapped up Timberlake's every move. A more seasoned performer, Timberlake showed his diversity combining note-perfect ballads and choreographed up-beat bangers proving himself to be a all-rounder than he was in his twenties.
His back-up band The Tennessee Kids added touches of Jass, blues and rock to compliment the Timbland-arranged beats that prevail through most of JT's Work.
The staging though simple, was backed with video content, which was projected onto an art-installation structure, reminiscent of Madonna Confessions Tour. Most notable in the express' favourite performance of the night – a rendition of his 2007 hit LoveStoned, the synergy between the lighting, video and the JT's movement was breathtaking.
In his seven years away, Timberlake's choreography has not missed a beat – as was particularly notable on performances of Rock You Body and Suit & Tie. He experimented with different styles of dancing throughout the show, from a dabble into Latin-Ballroom for Senorita to some perfectly timed Disco moves for his surprise cover of the Jackson 5's Shake Your Body (Down to the Ground).
A packed out Vector turned into a glow-worm cave when Timberlake requested everyone out their iPhones up for hits Until the End of Time and What Goes Around, the former of which really showcased Timberlake's pristine vocal conditioning.
Finally the audience were given there chance to show Justin their pipes with sing-alongs to two of his biggest anthems Cry Me A River (in which he still calls Britney a 'bitch') and Mirrors.
A 1 hour 40 set – this concert was a exquisitely timed collection of hits. When the tour kicked off in the US, Timberlake had been offering audiences a heavy 30-song set list that even with an interval would have assured fan fatigue. Now a perfectly formed collection of his hottest singles, this World Tour is a must-see show!
Justin Timberlake World Tour – Vector Arena, Auckland: Monday 13 and Wednesday 15 October. Tickets through TicketMaster.
Article & photos | Oliver Hall.