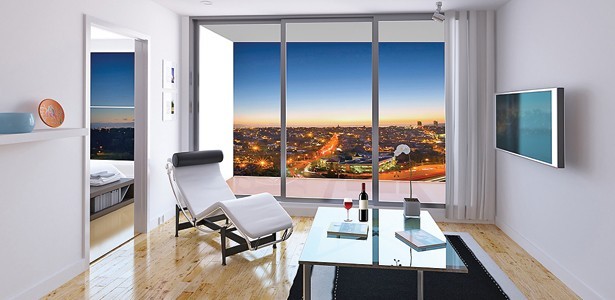 As the Auckland Housing Market slips from the grasps of many potential first time buyers – express ask's do we really need a back yard?
For Aucklander's who have not yet stepped foot on the property ladder, that first rung has gotten awful high if you are hoping to achieve the quarter acre dream in your first step. Especially for those who work in or around the city – central apartments are a truly viable option, with much more affordable two and three bed options than houses. In addition if you can find the right building, your home can boast expansive views, far nicer than your neighbour's fence.
The problem with apartments aside from potential close proximity to your neighbours is the lack of green spaces. But new apartment buildings coming on to the market look set to change that. Sugartree is once such example, Realtor Andrew Rumbles tells express, "SugarTree is centered around an immaculate courtyard – a landscaped area with stately trees and sculptural water features. Green spaces are scattered throughout the development, so you can find your favourite place – your very own secret garden, including a private rooftop garden just for residents." 
With greener options like SugarTree popping up, apartment living continues to be the city slickers choice for the future.
 Article | Oliver Hall