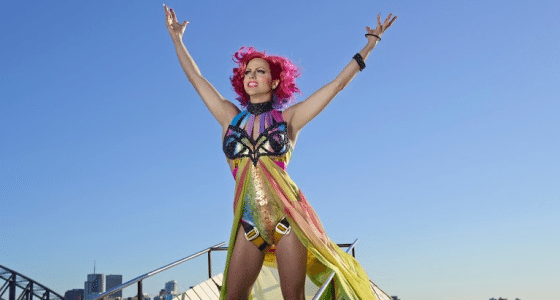 The Marid Gras 2015 tourism campaign was officially launched today in Sydney with Courtney Act announced as the global ambassador,
The campaign shoot and videos were done earlier in the year, explains Act: "I made a flying visit home to shoot the 2015 Mardi Gras tourism campaign, which was incredible. I never imagined I'd be photographed on top of Sydney Opera House, let alone in full drag! I can't wait to see these images start to appear around the world."
"As the world's most spectacular celebration of pride and diversity, I'm very proud to represent Sydney Gay and Lesbian Mardi Gras around the world as Global Ambassador," Act said.
Act says that Mardi Gras is the perfect time to make a visit to Sydney which she calls the best "summer city" in the world.
"From the festival, the parade, the parties and events, to Sydney's buzzing culture, fantastic bars and restaurants, beautiful beaches…what's not to love!"
Sydney Mardi Gras 2015 runs February 20 to March 8 2015.
Article | Levi Joule