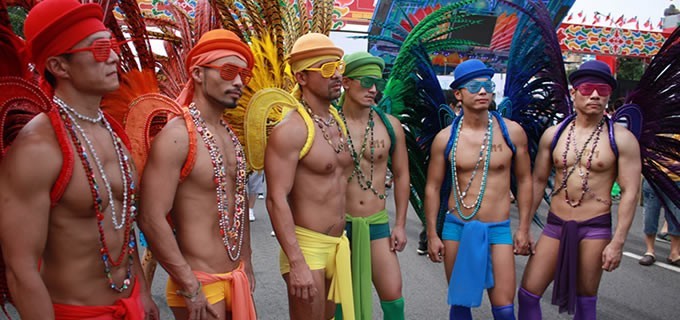 Over 50,000 gathered in Taipei to celebrate the 2014 Taiwan GLBT Pride Parade
The Taiwan LGBT Pride Parade was held Saturday in Taipei under the theme of "Walk in Queers' Shoes."
"Walk in Queers' Shoes" was selected as the parade's theme this year to call more attention to minority members such as those who are HIV positive and the disabled within the LGBT community, "Those people also need attention as they may relate to the LGBT groups. For example, a handicapped gay,"  Taiwan LGBT Pride Community's Albert Yang said.
"The public may just know about lesbians and gays. That still comes out of the gender binary mindset," Yang said. "We want to make 'the minority of the minority'– people who are bisexual, transgender, queer, intersex and asexual — more visible."
Around 140 groups from universities and well known companies such as Google and Ernst & Young, took part in 2014's parade. The parade also attracted supporters from the Chinese mainland, Hong Kong, Japan, South Korea, Europe and the United States.
First held in 2003 with about 500 participants, the parade has grown to become the largest GLBT event to be held in Asia.
Article | Levi Joule