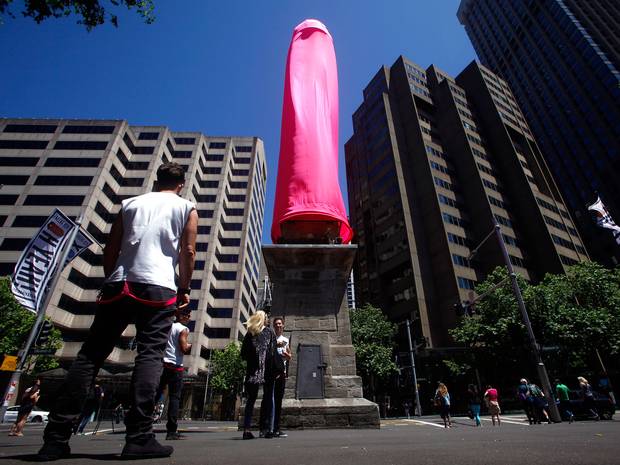 The giant condom has been erected in Sydney's Hyde Park as part of a campaign to promote safe sex among gay men. 
A 157-year-old heritage-listed obelisk in Hyde park has been  covered for a week and packets of condoms have been strewn around the structure, bearing the message: "Test more + treat early + stay safe = ending HIV".
The campaign to promote safe sex among gay men is being run by ACON, a health promotion organisation that focuses on HIV and Aids, lesbian, gay, bisexual and transgender health.
ACON's chief executive Nicholas Parkhill has said the visible icon in a high-traffic area was deliberately chosen to "turn lots of heads and raise a few eyebrows"
The need for gay men to stay safe during sex by using condoms is the core strategy for eliminating HIV transmission by the end of the decade.
"We won't be able to achieve this goal unless fay men use condoms when they're having high-risk sex with causal partners, particularly in situations where are partner's HIV status isn't known – it's that simple."
Article | Levi Joule