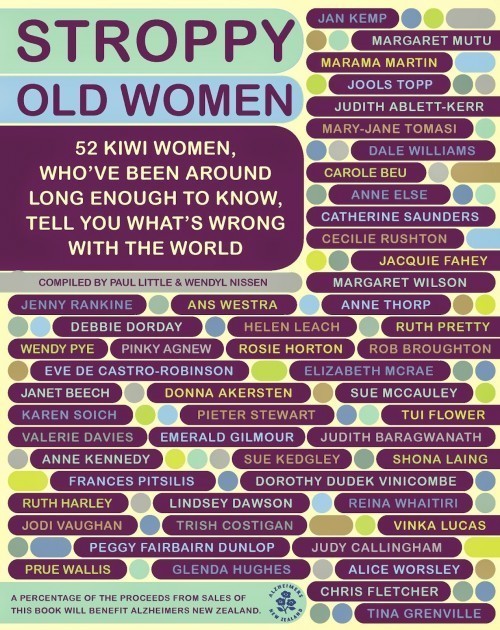 Stroppy Old Women, a new book by Paul Little and Wendyl Nissen, launched Friday night at Grey Lynn Library Hall, Sandi Hall was there and gives us her take on the book. 
In our Rainbow community, it's obvious that anxiety about body image is highest among men. The aging body is of particular concern, with not much attention being paid to other, far less pleasant realities. Such as Alzheimer's. Money to combat this identity-theft syndrome is sorely needed.
Stroppy Old Women, a new book by Paul Little and Wendyl Nissen, launched Friday night at Grey Lynn Library Hall donates a percentage of its sales to the Alzheimer's Foundation. So let's hope the sales soar!
They should do, because apart from anything else, this collection presents 52 personal reflections by some of Aotearoa's top female movers and shakers: Ruth Harley (ex-NZ Film Commission), Margaret Wilson (ex-Speaker of the House),Jaquie Fahey (painter, ONZM 1997), Pinky Agnew (playwright, humourist,actor) Sue Kedgley (ex-MP, Wgtn Regional Councillor), Ans Westra (photojournalist, CONZM 1998).
The theme of the book's reflections is captured by its strap-line: "52 Kiwi women, who've been around long enough to know, tell you what's wrong with the world".
Proudly, Auckland mover-and-shaker lesbians are well represented.
Readers who follow the news will be aware of the world-wide rise in violence against women. Carole Beu (Owner, The Women's Bookshop, Ponsonby; Board member Auckland Writers and Readers Festival) "People have sometimes commented that women are violent too. Yes, a few are, but there doesn't seem to be the need for a chain of refuges the length and breadth of New Zealand for men to escape from dangerous women."
Founder member of Tamaki Makaurau Lesbian Newsletter Jenny Rankine recently helped the newsletter go online as Lesbian News Aotearoa, which increases its audience spread: "The surveys show that one in four Kiwi women is attracted to another woman…and one in eight has been sexual with another woman; bisexuality is much more common in women than in men. So…the middle aged woman in the cardi waiting at that bus stop may also have a side of her life that only another housewife knows about."
Perhaps the most charming inclusion comes from Jools Topp (Topp Twins). "Sometimes I judge my life by what's happening with my horses,' says Jools. "The most important thing to learn is that [a horse] knows he tastes good. He is aware that he is attractive to predators. So he has developed strong instincts for self-preservation. If he's scared, he doesn't hang around. So you have to get your horse to understand he is better off staying with you. When I'm riding my horse and he sees something that might scare him, I want him to think 'I'd better check in with Jools about this' before he takes off."
All in all, Stroppy Old Women is a dynamic collection of thought and action by achieving, contemporary NZ women. Paul Little and Wendyl Nissen are to be congratulated for this good-looking, powerful book born of thought and memory – both of which form our characters and personalities. And both of which are erased by Alzheimer's.
Article | Sandi Hall