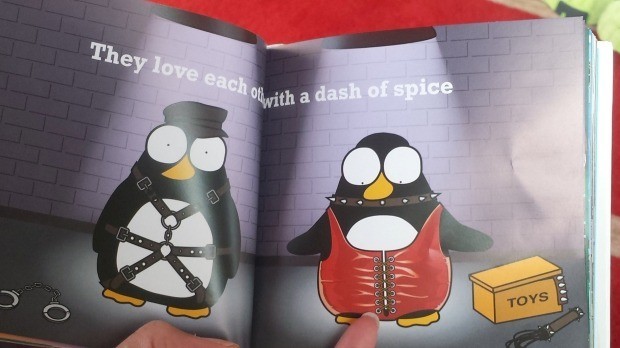 A picture book featuring gay penguins in bondage gear with whips somehow found its way into the collection of Kaiapoi preschool, upsetting some.
Gus and Waldo's Book of Love features a pair of same sex male penguins in bondage gear with whips  and the line "they love each other with a dash of spice." The book written by Massimo Fenati is intended as an adult picture book.
Parents of the preschool students were shocked at the discovery and are asking how the book made its way into the collection in the first place. The Press reports that mother of three Lana McLean first found the book last month when she visited Sovereign Star Preschool and Nursery with her 3-year-old daughter. She had been the previous day with her husband to look at the pre-school.
"I was there looking at it as a prospective preschool for my child, when other kids there brought the book over to me from the shelf and asked me to read it. I looked at it and said, 'go choose another one."
McLean said she was shocked by the book and after talking it over with her husband that night she returned to the pre-school the next day and laid a complaint with the manager, Brooke Philpott.
"I said to her, ' I think you have some inappropriate reading material on your shelf. It's not suitable for toddlers – in fact I don't even think it's suitable for my 15-year-old'."
However, the school disputes that McLean made any formal complaint. Pre-school manager Brooke Philpott last Thursday issued a statement through lawyer, David Beck stating  "The woman in question came to look at our pre-school and took offence to the book in question, Gus & Waldo's Book of Love. She left without talking the issue over and took photos in the pre-school without permission," the statement said.
The pre-school's statement continues: "It is a humorous book depicting cartoon penguins that we had ordered wrongly thinking it was suitable for children given its use of brightly cartooned penguins. The offending bit that we did not spot until a much closer reading is that it depicts the two penguins in bondage gear.
"We now appreciate that it contains some adult themes that parents would naturally object to and have decided to immediately withdraw it but stress that young children reading it would be completely unaware of the significance of the clothing worn by the penguins.
"The book is otherwise bright and funny."
Article | Levi Joule.