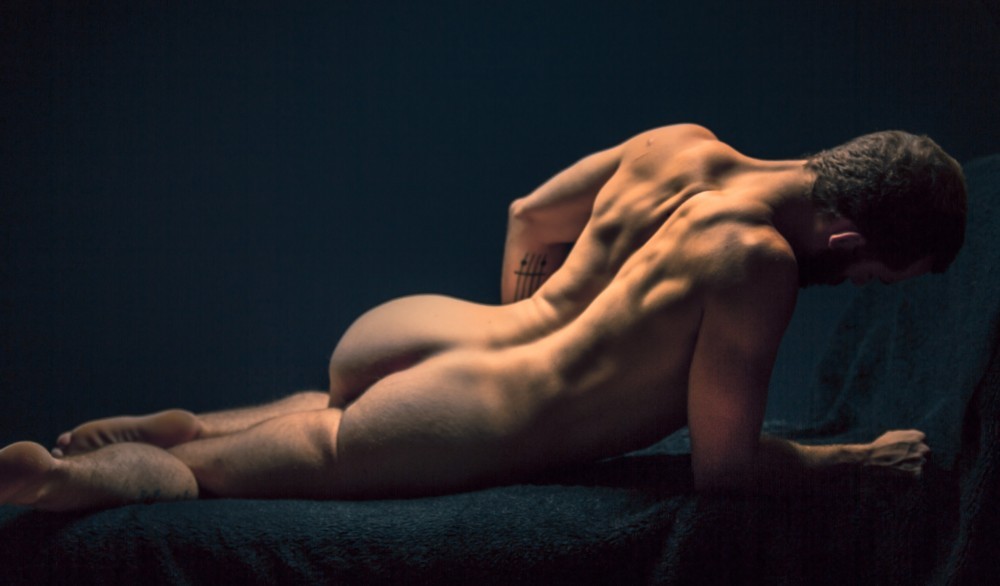 Bede Stevens examines the male form through the lense of Alex Efimoff.
Wellington photographer Alex Efimoff is 36, he was born and raised in Russia surrounded by his artist father's sculptures of Soviet life and sometimes nude women. Those of us familiar with Alex's art now know him to be surrounded by lush, intensely focused photographs of nude males. Alex remarked to me that being immersed in his father's art gave him a "perception of balance"; indeed Alex's male nudes are solid forms, exquisitely lit (and sometimes kitted out in a modern fashioned version of Caravaggio's boys) with a weight that is palpable; sculptural.
Alex also creates tender "life" photographs of deep focus black and white. In their stillness, their quietness, their spiritualism these architectural works recall the eye of renowned NZ photographic artist Laurence Aberhart; as if to unwittingly agree Alex refers refers to these as, "monochromatic documentary". His series on Christchurch city after the 2011 earthquake and his images of children's graves in Waikumete Cemetery are testament to his sensitivity.
However this is "express" and so back to the male nudes. I mentioned the images of a bearded male fully nude transfixing me with their details, remarking to Alex that so often the details of a face or genitals can be so distracting in nude works –smaller areas of intense detail at either end of a vast tract of flesh – but not in Alex's work. With his use of deep focus every pore is subjected to the same intense stare. Everything is so scrutinised that small marks on his bearded model become fascinating as one questions what they are?
And so Alex Efimoff is responsible for some very beautiful nudes especially in the intensity of his models flesh; the smallest flawed nick of flesh providing the viewer with as much interest as an exquisitely lit torso or the folds of a penis.
In his adoptive city of Wellington, Alex appreciates the combination of interesting buildings within the accessibility the compact city allows, together with its great vibe. This humming city and the country have seen Alex work – within a comparatively brief time – for fashion and sport magazines, dance companies and Royal New Zealand Ballet dancers. But he yearns for further opportunities to work with NZ male and female models to take on the role of the artist's muse to further his art. If you'd like to be part of Alex Efimoff's photographic art, visit his website www.AlexEfimoff.com and make contact.
Article | Bede Stevens. Photos | Alex Efimoff.