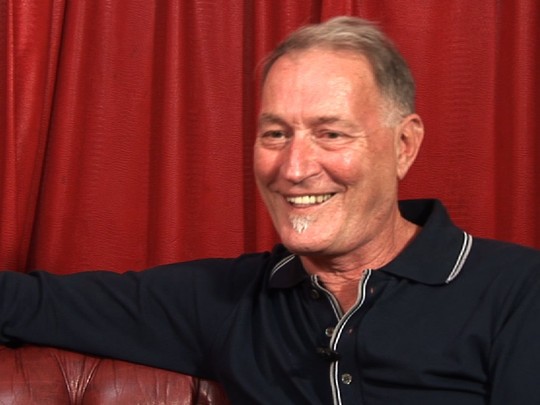 "samesamebutdifferent LGBTQ+ is the catchy name of a writers' festival taking place 12 -14 February under the umbrella of next year's Pride Festival," explains Peter Wells, who is organising this treat.
"It's a celebration of Aotearoa's top LGBTQ+ writing talent, from Witi Ihimaera to new voices coming through. It's about ideas, thinking, stretching the concept of who we are by looking at who we have been — with the new voices opening a picture of who we are becoming. It will be held at AUT."
Samesamebutdifferent LGBTQ+ is Peter's brainchild, who is one of the Queer community's literary icons. "The idea came when I was approached to do something for the Asia Pacific Outgames," says Peter, "but unfortunately the Outgames didn't happen the way originally planned. But the idea was a strong one and wouldn't go away."
A key presentation is The Book that Turned the Light On, which signposts the 'meat' of samesamebutdifferent LGBTQ+. It highlights the illegality and stigma that homosexuality evoked in pre-21st century Aotearoa. In those danger-filled times, books were used as an underground way of passing information. Many of them were also sexual technique manuals, avidly read and passed around to readers who were both homosexual and hungry for any word which reflected their reality.
Partly funded by Creative NZ, The Wallace Foundation, GABA, and AUT, this two day event offers interviews, panels, and a discussion of issues affecting our lives. It also promises to focus on new LGBTQ+ voices as well as hosting some of our already well-loved voices like Witi Ihimaera and Whaitiri Mikaere, aka Diesel Dyke Poet. Because the received funding falls far short of what is needed, each session will cost $15 to attend.
New Rainbow community members, perhaps even new to Aotearoa, may not yet know of Peter Wells. Peter is an award-winning writer and film-maker who has been out and proud since the early '80s. Giving respect to the books and films he has created saw him awarded the NZ Order of Merit for his contributions to literature.
"Smart, witty, and controversial, samesamebutdifferentLGBTQ+ seeks to broaden the audience beyond core LGBTQ+ writers to include everyone interested in celebrating difference," says Peter.
"That's why we're so keen to bring new voices to Pride audiences," he continues. "For example, celebrated playwright Victor Rodger chairs a panel on the future of Polynesian LGBTQ+ writing, with particular emphasis on its importance in a world clearly beset by the enormous changes threatened by the increasing grip of climate differences."
Another featured writer is Alison Mau, whose recent book gave us a peep into the life of New Zealand's first full sex-change Queer.
A chance to smooze with the rather well-known is there too – guest Labour MP Grant Robertson joins Susannah Walker, editor of Metro, Jeremy Hanson, editor of Home, and Ema Lyon, founder of that delightfully naughty store, D-Vice.
SamesamebutdifferentLGBTQ+ is not the first writers' festival Peter Wells has helped inaugurate: with Stephanie Johnson, he co-founded the Auckland Writers' Festival. Its first Festival was held in a rather cold venue heated up by the enthusiasm of the perhaps 100 people attending. Earlier this year, the same Festival hosted nearly 10,000 people.
A Queer Writing Festival hosting 10,000 people – a great goal to aim for!