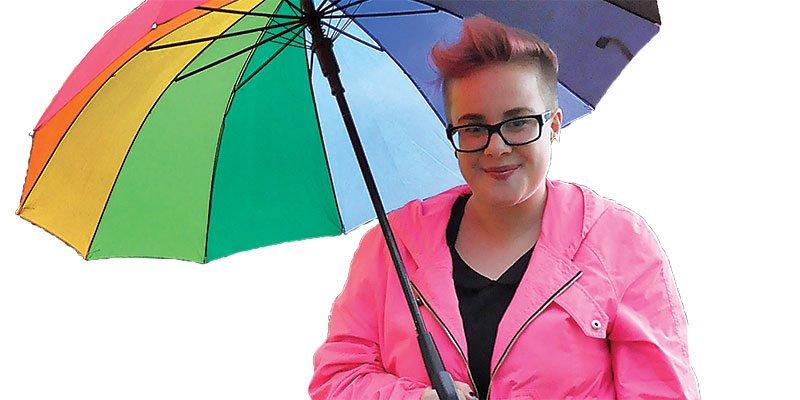 express chats to social justice warrior Aych McArdle about gender, advocacy, and dinner with a Kardashian.
Kia Ora Aych! Tell us a little about yourself?
I'm a creative gender diverse person who is obsessed with glitter and making the world a better place for all in our community.
What is your coming out story?
When I was 21, I kissed a girl and I liked it! That moment opened up a world of possibility. Meeting other gender diverse people in my early twenties also gave me the words and constructs to describe the way I understood my gender and the confidence to embody this fluidity in how I am in the world.
What was the most fulfilling part about working with Rainbow Youth?
Witnessing "ah-ha!" moments in education workshops was pretty special! It's awesome seeing the magic that happens when people are given permission to see themselves and commit to walking alongside our community.
You've recently been accepted into the UN's 2016 ISHR Human Rights Defenders Advocacy Programme – how does it feel?
I'm both terrified and excited! Social justice projects have played a huge role in the development of my world view and values. I remember in primary school proudly taping the The Declaration of the Rights of the Child to my mirror in an attempt to memorise the ten principals in preparation for a school speech on family violence and why all children in Aotearoa deserve to grow up in a safe without fear of harm. It feels pretty special to be heading to the city where it was originally endorsed by the League of Nations (and then later, the United Nations).
With your myriad of experience and knowledge, what do you ultimately want to achieve for the rainbow community?
One of my dreams for Aotearoa is that we become a country that can guarantee access to competent (and ideally excellent) healthcare for all of our community including sexual health, mental health, whanau support, transition related needs for our gender diverse whanau and the right to self determination and bodily autonomy for our intersex whanau. When all of the pillars in our whare are strong, we will be able to both thrive and withstand the toughest of storms.
You're invited to a mystery dinner for four in Hollywood – who are you wishing will be seated around the table?
Khloe Kardashian, Malala Yousafzai, Chimamanda Ngozi Adichie et moi!