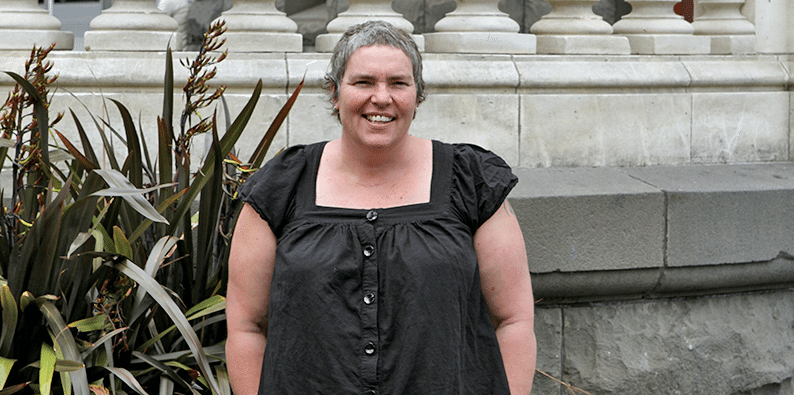 express talks to community favourite and OUTlineNZ chair Cissy Rock about life, love, and being a proud Westie!
Kia Ora Cissy! Thanks for taking the time to Have the Chat with us! Tell us a little about yourself?
I am 47-years-old and finding I am more comfortable with myself as I grow older. I am a workaholic, housework isn't even considered a developing skill, I have three sons, am a proud Westie and have the most fabulous girlfriend. I also have a pretty cool dog and a very grumpy cat.
What is your coming out story?
I find coming out stories so limited, as if there is a cathartic moment when everything changes – I have several, all loosely based on real life events. I think as soon as I realised that women were an option I was interested – I had a relationship with a female school friend when I was 16 and I also had my three sons with a man – I know how fluid sexuality is and I would never want to, say, stop being this and start being that. For me I realised that on the whole gender roles are pretty fixed and I prefer women. I am keen to be outside of the system, not too flash about marriage, babies and picket fences. In saying that, I have wished my loved ones well when this is what they chose.
You are a force in the queer community – what would you say are you greatest achievements/events/initiatives?
I love events in our community that allow us to thrive and be emerged in our culture. For me this is mainly lesbian events. I really hope as rainbow communities we can collaborate, engage with each other, shape organisations to reflect what is important to a broader range of those that find themselves identifying with the term 'rainbow communities' and be transparent about this.
What is on the cards for the future?
I am very focused on my role as Chair of OutlineNZ, we have four women on the board (a first) and are working to be the best community based board we can.
You are stranded on a deserted island with two others people – who would you want them to be and why?
I would never be stranded on a desert island – far too hot and to be limited to two people is a nightmare – I like lots of people and a cooler climate!