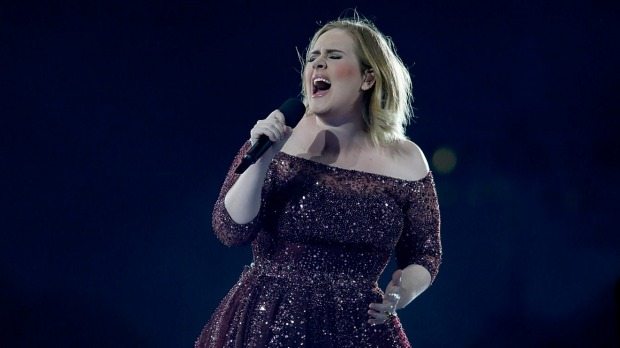 There's no question that Adele's New Zealand debut was a special event.
It's not every day that more than 45,000 Kiwis rush to Auckland's Mt Smart Stadium on a Thursday night.
But then again, last night was anything but ordinary, as multi-Grammy-award winner Adele made sure that we were treated to a show that, while staged in an arena-style, still felt like an intimate atmosphere.
Upon entering, a huge 360-degree screen featured a close-up of Adele's closed eyes facing out from the stage to all corners of the stadium. The global superstar decided to do without a support act (because, can you imagine the poor soul that would have the daunting role of measuring up to her vocals?).
As the lights went down just before 8pm, the eyes snapped open and rose high above the stage, much to the delight of the crowd, to the sound of 25's first single, Grammy-award winning, Hello. The real Adele appeared beneath the screens in a custom burgundy sequinned gown by Lebanese fashion designer Zuhair Murad, and when she sang "Can you hear me?" we all roared back.
The hit single was the logical welcome for fans who had battled Auckland traffic and crowded public transport to get to Mt Smart. And what a welcome it was.
Although the show started nearly half an hour after its advertised time of 7:30pm, I was secretly glad as I was still waiting in line for food until about 7:35. I'd forgotten to eat prior to the show and what a mistake – LEARN FROM MY LESSON.
Fresh from her eight Australian shows, Adele was just as excited to be in New Zealand as we were to have her. She noted that our weather was much more her cup of tea as she was, and I quote, "sweating my tits off over there". Her 122-show Adele Live world tour began in February last year in Belfast.
Immediately, Adele's cheeky charm shone through – she started up the old Neighbours vs Home and Away battle after mentioning that she visited the Ramsay Street set while in Melbourne. She's refreshingly beautiful and unapologetically real. She may sing like an angel, but damn, does she speak like a cockney sailor. This is by no means a negative however, in fact the opposite. It's all part of her appeal: she may be a megastar, but she's one of us.
With her down-to-earth nature and witty banter, it was easy to see why so many people, young and old, feel a real connection to Adele. Regardless of the tens of thousands of people in the stadium, it felt like she was talking and singing directly to me.
As we were taken through the two hour long set, not once did it feel like she was stretched for time. Having three successful albums under her belt, the singer isn't without the material to match the size of her shows, yet the balance between selected songs and the crowd interaction was perfection.
In between her stellar vocal performances, Adele's stage banter was more like that of a tipsy aunt than one of the biggest musicians in the world. She quipped and cackled about the state of her fitness as she made her way around the humongous stage – honestly, it felt like I could have easily been at the bar with a mate.
From Chasing Pavements, Rumour Has It, Rolling in the Deep and When We Were Young, the hits kept rolling. A personal highlight was when the 40-strong male choir joined the superstar for her 2012 James Bond theme Skyfall – the vocals were terrific, but the story she'd told prior about her dilemma(s) shooting the music video had us all giggling.
Looking around, you couldn't help but be impressed with the staging; a huge circular stage allowing the 28-year-old singer to work in 360 degrees.
"The structure is huge," said Michael Coppel, the chairman of touring company Live Nation Australasia and the man behind Adele's downunder tour, "It dwarfs the stadium, the height of the stage is probably that of Mt Smart."
Hundreds of workers, 26 trucks, a ship and two huge Boeing 747 jumbo jets were required to get Adele's set from Australia to Mt Smart Stadium. The cost of transport to Auckland alone has been estimated to have exceeded $2 million.
The circular layout with the stage in the centre gave concert-goers a great viewpoint regardless of where they were seated, while the wrap-around screen provided ample opportunity for  live shots of Adele herself as she belted out ballad after ballad, combined with some evocative, pre-recorded footage.
Coppel said from what he could tell, this was the biggest concert to come to New Zealand. The British singer was already the fastest-selling record artist in here, and she has now broken ticket sale records, selling in excess of 100,000 tickets in one day. Ticket sales certainly surpassed expectations and they could've sold out a further two shows, "if we'd had time to play them" Coppel says.
Adele had another bug incident, like she had in Australia, where two beetles took it upon themselves to (hilariously) harass her for majority of the show. At the end of Don't You Remember, she became aware of the fact that one of them had crawled into her boot, causing her to rip the shoe off and lie on the stage embarrassed. As she couldn't bring herself to killing them, she called upon the help of an audience member, who introduced herself as 15-year-old Teagan from Hamilton, to help her to clear the bugs so that she could continue. They hugged, took a selfie and Tegan gave her a plush Kiwi toy which Adele said that she would give to her son (so cute!)
Make You Feel My Love was dedicated to the victims of the terror attack in Westminster today, and Adele asked the crowd to turn their phone torches on in solidarity. Looking around at the tens of thousands of sparkling lights in the crowd was truly beautiful.
Later, powerful confetti cannons blasted hundreds of thousands of pieces of confetti into the night sky with messages printed in Adele's handwriting. Song titles, lyrics and messages rained down on the audience such as "regrets and mistakes, they're memories made" and "we could've had it all". An amazing personal touch and incredible attention to detail.
During Set Fire to the Rain, while we were all distracted by the smoke machines and fireworks booming above, the stage beneath her descended and she had a refresh under the stage by her Kiwi makeup artist, Michael Ashton. Ashton, originally from Hamilton, has been doing Adele's makeup and hair since 2007 and earlier in the show, she asked the entire audience to sing him happy birthday!
In the interim, the crowd had become immersed in a KISS CAM and everyone watched enthralled as couple after couple spotted themselves on the big screens. We were super impressed with the amount of LGBT+ couples that were included.
I was sat next to two journalists, one from Stuff.co.nz and one from the NZ Herald, and throughout the show, the three of us were vigorously writing notes on our iPhones.
The megastar left her best until last, singing arguably her biggest single, Someone Like You, along with the thousands of us in the crowd. She shared the impact of the song on both her as a woman and as an artist, saying that the man it was written about stripped her of her confidence and dreams, and made her a shell of the woman that she once was.
An emotional Adele thanked everyone for coming and seemed genuinely appreciative of the love of her fans. Her eyes glistened with tears as the crowd roared their adoration for her and she left the stage to a standing ovation.
The once-in-a-generation artist left Kiwi fans both starstruck and with a brand new bestie. Let us hope that we don't have to wait another decade for her to return.
Adele's Auckland concert set list:
Hello
Hometown Glory
One and Only
I'll Be Waiting
Rumour Has It
Water Under the Bridge
I Miss You
Skyfall
Don't You Remember
Make You Feel My Love
Send My Love (to Your New Lover)
Sweetest Devotion
Chasing Pavements
Take It All
Set Fire to the Rain
When We Were Young
Rolling in the Deep
Someone Like You
Adele is performing at Auckland's Mt Smart Stadium again on Saturday, March 25 and Sunday, March 26.
Images: Phil Walter / Getty Images
Article | Zakk d'Larté