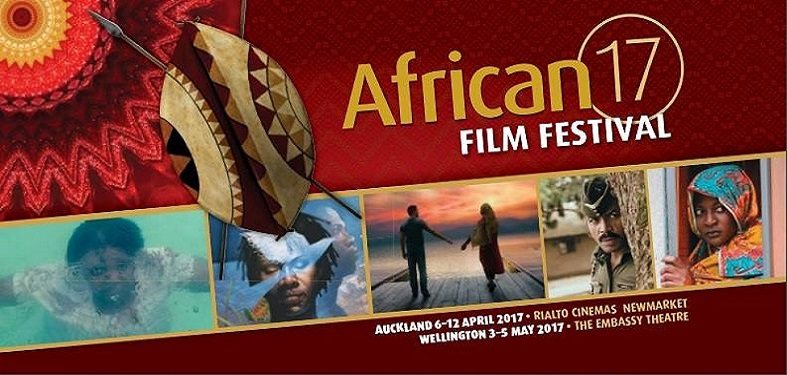 Few others could rival the 6 April opening night in Auckland of the three year old African Film Festival.
In the roomy foyer of the Newmarket Rialto, hand drums beat irresistibly while high pings of the Nigerian m'bira (thumb organ) fluttered and resonant bass notes boomed happily from a shakr'a (gourd bass). Weaving through all these, the n'gongi (African harp) added mellow, almost plangent notes.
People danced. People got down and shook their booties; wiry men of a certain age flipped their elbows out, trembling their knees. Funky beauties in tinsel stilettos writhed, smiles of huge enjoyment pulling answering smiles from the crowd. And crowded it was – very multi-cultural, joyfully so. Tickets for the opening celebrations and film, The Wedding Ring, had been so sought after that the Rialto had to screen it in two of its cinemas on the night.
An astounding entry in this years AFF was Pearl of Africa, a romantic name for Uganda, possibly one of Africa's most homo & transphobic countries. The film is an as-it-happened documentary by Jonny von Wallstrőm about the personal journey of Ugandan Cleopatra Kambugu to get the reconstructive surgery which would complete her transition.
Animated silhouette sequences showed the young Cleo being beaten, hinting at one reason for her desire to transition. Her lover-companion is the deeply practical Nelson, whose sense of humour takes them both through many obstacles, including their stay in Thailand, where Cleo finally realises her dream. A victory in the face of Ugandan homo and transphobia!
Women directors of African films are rare, as they used to be here, but The Wedding Ring director, Rahmatou Keita shows a commanding vision which informs as it delights. The conventional girl-meets boy romance story line is given a pleasant Niger twist in the use of shamanism to encourage a proposal from the uncommunicative boy. Wedding Ring treats us to a loving look at the house and customs privileged young Niger women live, like the central character, Tiyaa, who waits for marriage to set her on the course of her adult life. Tiyaa's dream of marriage is contrasted by an older woman who sits across from the striking house she once lived in, believing her white lover will return and install her in it again. "White people are different," she tells Tiyaa. "They have no taboos." Tiyaa's sister turns to a shaman to find the way which will lead to a proposal from the absent suitor. Even the lively 'trashy girl' character has a role to play in this warm, romantic superbly filmed story.
Also a tale of young love, Ben & Ara is a co-production between Cameroon & the States, set in the States. Ben, who has become disenchanted with his PhD dissertation and knows he is writing crap, has a brain shake-up when he meets another dissertation student, Ara, and begins to discuss religious and spiritual beliefs. He's agnostic, she's a devout Muslim. He's also into open relationships (as is his girlfriend, who almost steals the show).
As a Muslim, Ara is supposed to wait for the wedding night to experience sex. But after meeting Ben, even though she knows he is in another relationship, she doesn't (though the sex scene does show a lack of passion on her part). Predictable results. The strength of the film lies in both the excellent cinematography and a script which even-handedly gives voice to both agnosticism and Islam.
Shamanism twists its way through the heart-tugging Ghanaian film Children of the Mountain, also directed by a woman, Priscilla Anay. The film is based on a true story. The actor playing Esseman was so good, I hope she is acclaimed in her own country.
Esseman has an affair with another woman's husband, with a pregnancy resulting. Most African cultures do not castigate the woman for this and men usually accept their paternal responsibilities. But Esseman's eagerly awaited son is born with a cleft palate, Downs Syndrome, and cerebral palsy. Esseman and the baby are instantly rejected by the child's father, who accuses her of having a "dirty womb."
After initially rejecting the child herself "he is so ugly", Esseman comes to love him and seeks to find a cure for him. Over a period of five years, she consults five different shamans, one of which prescribes a herbal concoction which begins to poison the baby. Apart from an engrossing story, the film offers wonderful vistas of the Ghanaian landscape, its flop-eared cattle, and its rural people who still hold fast to stone-age superstitions and beliefs.
Train of Salt and Sugar, set in Mozambique in the 1980's,shows the brutality of that country's forty year war and the patience, competence and life-keeping skills of its women. The acting is splendid: a psychopathic, sex-hungry soldier ("I'll fuck her til she breaks") is superbly contrasted by the devout engine driver, while the newly graduated young nurse, Rosa, shows Mozambique's movement to modernity and an end to its horrific civil wars. The film lacks a strong editor but is still compelling.
All countries of Africa share a strong belief in the supernatural. Kati Kati, winner of the Fipresci prize at Toronto's International Film Festival, makes the supernatural its setting. Kaleche, a 20-something woman, finds herself in the middle of an arid landscape, with no idea how she got there. She sees buildings ahead. This is Kati Kati, and immediately on arriving there, she discovers she is dead. Director, Mbithi Masya draws excellent performances from his eight actors in this convincing portrayal of limbo.
Last film of the festival was the entrancing Baaba Maal. Many in the audience were clearly familiar with this Senegalese singer's work. A documentary following the journey to Baaba's home town of Podor on the border between Senegal and Mauritania, the film ends in a joyous concert, packed with an enthusiastic audience. Baaba Maal's riveting voice and joyful music are both internationally acclaimed.
The Trustees and organisers of this third African Film Festival are to be congratulated for continuing to open New Zealand eyes to the marvellous array of cultures in vibrant Africa. Can't wait for next year's offerings!