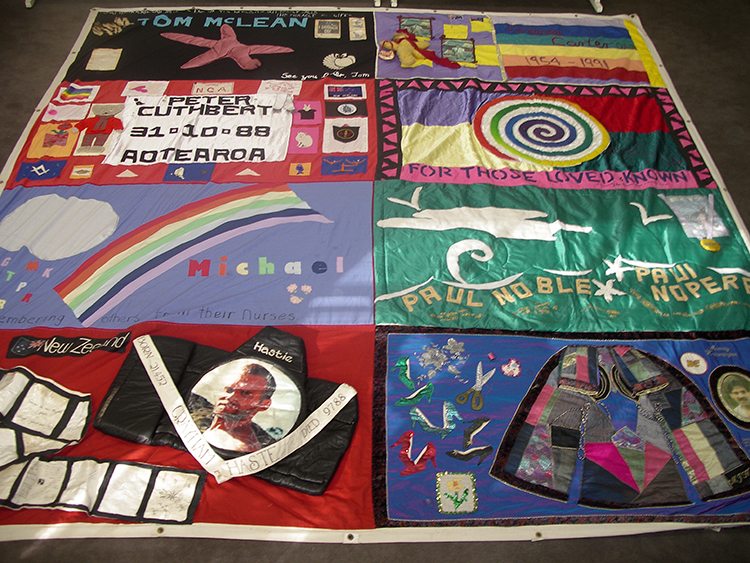 Recently, well-known community volunteer, Michael Bancroft, has ended a ten year guardianship of the New Zealand AIDS Memorial Quilts and is retiring from almost 30 years of formal involvement with numerous HIV and AIDS support groups.
---
In 2012, Michael, on behalf of the New Zealand Quilt Project (NZQP), was instrumental in handing over the greater part of The Quilt to Te Papa Tongarewa, the Museum of New Zealand, as a national taonga, assured of their care and preservation for future generations. On the afternoon of Sunday 29 April, 2012 there was a special service at St. Matthew-in-the-City Church with over 200 people attending.
16 of the large blocks of panels commemorating around 140 individuals now reside in the guardianship of Te Papa.
While the creation of these memorial panels was a common way of remembering loved ones lost to HIV and AIDS in the late '80s and through the '90s, it became apparent that this format was diminishing worldwide by the early 2000's. The sheer number of blocks, thousands in the USA, 120 in Australia, the sheer logistics of their storage let alone display, had become unmanageable.
With the move to Te Papa, it was decided that 10 of the panels were to remain in Auckland so that a part of The Quilt would remain available for small events around Aotearoa — such as the annual candlelight memorials held in May, and for World AIDS Day on 1 December.
It is this part of The Quilt which has now been handed, for the foreseeable future, into the care and administration of the New Zealand AIDS Foundation (NZAF).
"It has been a humbling privilege to have helped to care for The Quilt as a guardian down the years — especially having known, supported and, in many cases, conducted the funerals of those commemorated with a quilt," says Bancroft.
"This is not the end of The Quilt, rather a new beginning with new possibilities. The greatest thanks are owed to the scores of family members, lovers, friends and quilt makers who created them and committee members who helped to keep them in the public eye."
While he might now be 'retired' from his formal connections, Michael's ongoing support of positive men and women will continue without a doubt.
Michael was given Life Membership of the New Zealand AIDS Foundation in 2013. He is also a Justice of the Peace and an Officer of the Venerable Order of St John (OStJ).
The Quilt panels can be accessed by contacting the NZAF.