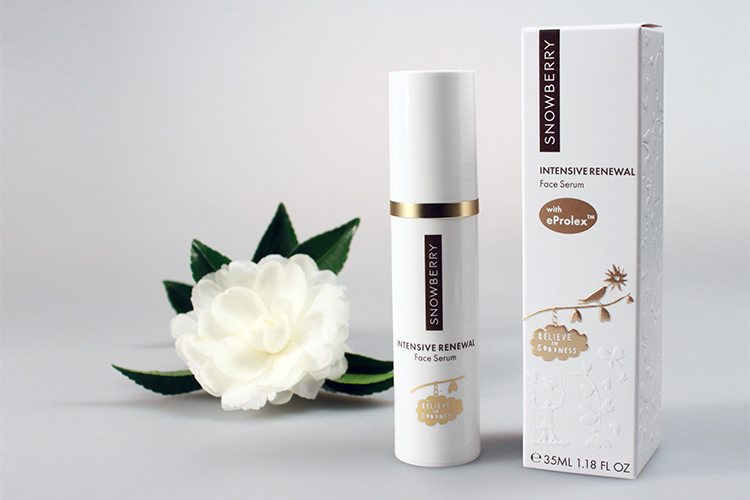 Everyone who's got their ear to the pavement in the beauty world must have heard about the new face product that has been unofficially dubbed the new 'Super Serum', or more officially known as Snowberry's new
Intensive Renewal Face Serum

. What makes this serum so special you ask? Well lucky for you, I actually have the answer!
---
Snowberry's Chief Scientist, Dr Travis Badenhorst, states that there are two factors attributing to the 'super' aspect of the serum. Firstly, the serum contains a world-first peptide complex called eProlex™ – developed over several years of intensive skin science research by Snowberry, at the University of Auckland. eProlex™ was specifically designed to bring the density back to ageing skin, as well as help to reduce pre-existing lines and wrinkles.
Dr Badenhorst says that the challenge for any anti-ageing skin care product is being able to deliver the active ingredients that help to rebuild and strengthen the skin's cellular matrix. Through several years of research, this is the world-first breakthrough that Snowberry has achieved with eProlex™.
The second major anti-ageing component of the Intensive Renewal Face Serum is a not-so-little thing known as MASS: Multi-Active Skin Support System. MASS is a potent combination of the skin cell protection and rejuvenating Niacinamide (Vitamin B3), Ascorbic Acid (Vitamin C), and Tocopherol (Vitamin E), combined with the potent natural anti-oxidant Ubiquinone and the deep hydrating humectant, Hyaluronic Acid. In simpler terms, the combination of eProlex™, supported by MASS should:
Re-densify ageing skin
Strengthen the epidermal basement membrane and so decrease skin sagging
Stimulate the skin's natural collagen, elastin and glycan production and so smooth the skin
Reduce photo damage and inflammation and so increase skin radiance and improve skin tone
Increase skin hydration and plumping
So now that I have covered the scientific side of things, let me shed light on my personal opinion – having been using the product for just shy of a month. I definitely started off hesitant – after all, wouldn't you with something that's been named a 'Super Serum'? Here I was, Negative Nancy, thinking it's too good to be true. So was it…?
Upon receiving the product, I did something I wouldn't normally do – I read the instructions. Some of you may have gasped as if I'm the devil, but I'm fairly confident the rest of you are sitting there reading this like, "Yep honey, I chuck those out all the time!" Following on from my mini education, I squeezed one pump onto my hand. Straight away, I looked at this and highly doubted this small amount of product being ample enough for my whole face – but surprisingly, I was wrong. The product was very light and easy to apply. I am usually very heavy-handed when applying face products so it was refreshing to see a company so confident in their product that they knew only a little amount would suffice. I also learnt not to apply any other product for five minutes. This allowed enough time for the product to fully absorb, especially in the mornings before I began my make up.
For the next three and a half weeks I proceeded to use this product morning and night. A special mention must go to the 35ML size bottle, as it was the perfect size to slip into my handbag on days I knew I was going to the gym and showering there before work. So, three weeks on and I can honestly say my skin feels better! I wake up in the morning and it doesn't feel dry. I also noticed I began to look more 'awake' during the day, as opposed to the half-asleep mess my co-workers kindly informed me that I looked like before. My makeup also looked visibly smoother and my concealer never strayed from under my eyes – my worst nightmare.
So at the end of the day, calling this a 'Super Serum' hasn't quite stuck – unless it is capable of cooking me dinner too? But I would highly recommend this product to anyone who feels like their skin is dry or looking 'tired'.
To purchase this product, find your local stockist at www.snowberry.co.nz.